Classic Product Box
A top-opening box made from printed cardstock. An elegant choice for your retail products.
Instant Quotes
Instant Quotes
Transparent pricing for quotes above 2500 in a blink of an eye. Directly in our editor.
Vibrant Looks
Vibrant Looks
Super vivid print on light cardstock.
Print Inside
Print Inside
Colourful internal prints for a memorable unboxing experience.
ECO PROPERTIES
This product meets the following eco properties:
When exposed to light, air, moisture and microbes, this product breaks down to natural elements found in nature.
Locally manufactured in Europe, meaning a lower transportation footprint compared to goods produced and imported from abroad.
Can be broken down and used as a new material.

A jewel for your storefront...
Let your customer see, touch and feel that awesome product. That's the best place for this top-opening box. Plus, the vibrant, high-resolution print is great to catch attention from afar and dazzle from up close.
Design now
...and a drop of the unexpected.
Surprise! That's how you make an unboxing unforgettable. A witty text, a dazzling pattern or cute graphics inside – all in a vivid, high-quality print.
Get started
Reviews
See what our customers say
Sample packs
Sample packs
Try before you buy. Select up to 5 samples and test different types of packaging, materials and sizes. Order a sample pack and get your money back with your first order.
Order now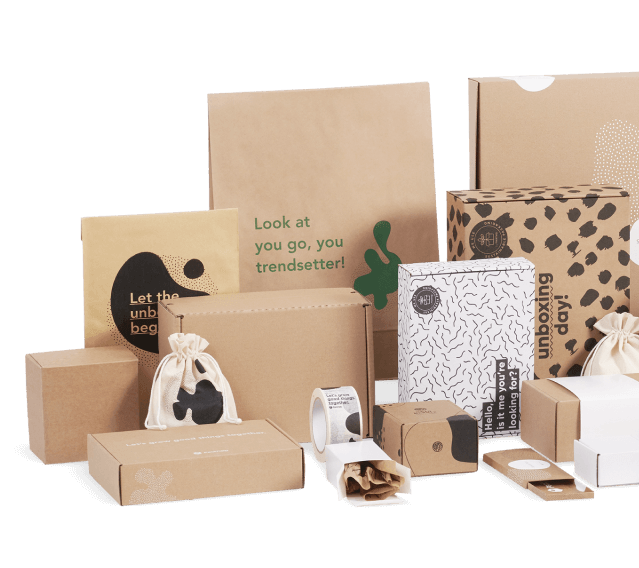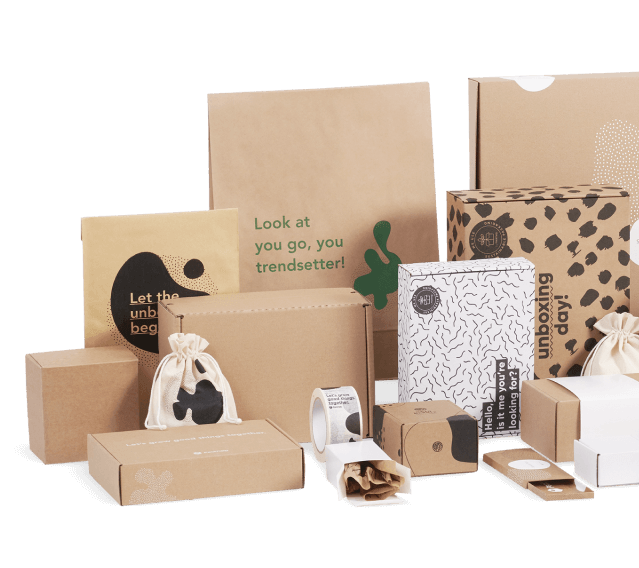 Specification
Specifications
Material colour
Natural Kraft

Standard White
Printing process
Digital prints
Customer Stories
A story from our customer
Free The Needle
French brand Free The Needle use their customer's drive to DIY. Their sewing kits are sold in beautifully designed boxes. The mellow colours correspond with the same tones of clothes that each client sews on their own.
Read more about this inspiring story
FAQ
Can you upload an image on the bottom of the box?
Unfortunately no. The lower part of a Classic Product Box is made from 4 foldable pieces of paper, which are placed onto each other during the assembly process.
These pieces come together and create the bottom of the box. As a result, this bottom part is not fully visible and a text or image is distorted. However, you can add any colour from the CMYK palette.
What is the difference between the white and the natural kraft material?
Both white and natural kraft are made from the same material, carton. Carton is lighter than cardboard, has lower grammage and doesn't include fluting (layers made from recycled paper).
White carton is recommended if you wish to print large parts or the entire box in a solid colour. The natural kraft option works best for minimalist designs, or along with darker colours – deep brown, black or navy blue. Check out the Inspirations page to see the differences between white and natural kraft wine boxes, or order a sample pack and check it out in the flesh.
Can you make custom sized Classic Product Boxes?
Yes, however, custom sizes require a minimum order quantity of 1500 pieces. 
Can you print on the inside of the box?
Yes! Choose any colour to be printed inside your box. Get in touch if you wish to print an image, mosaic, or text (or anything else)!
Instant quotes is our system of transparent pricing for wholesale quantities of packaging. With Instant Quotes, you can quickly screen our pricing for the standard sizes and custom sizes of packaging for 2500 pieces & more.
In order to check the price of a given custom packaging solution, please choose any quantity above 2500 pieces, choose your size and then proceed to view the offer.
Are Instant Quotes available for all products at Packhelp?
We are working on it, but until now, the Instant Quotes system is available on all Mailer Boxes, Shipping Boxes and Classic product Boxes. Sign up to our newsletter to stay updated with our product developments!
Subscribe for promotions, special offers and news from the packaging industry.
Great!
You're now subscribed!
Australia & Oceania

Belgium

Bulgaria

Canada

Croatia

Denmark

Estonia

Finland

Greece

Hungary

Ireland

Latvia

Lithuania

Luxembourg

Norway

Portugal

Slovakia

Slovenia

My country is not listed