Corrugated Envelope
Custom printed corrugated envelopes – extra tough and rigid for extra protection. Perfect for printed material, electronics, delicates & other fragile items.
Customization
Customization
Print front and back with up to 4 colours. Choose from five sizes in portrait or landscape format.
Quick & secure
Quick & secure
Send with the peel-and-seal strip and open with the tamper-evident tear-away strip.
Eco toughness
Eco toughness
3-layer corrugated cardboard made from 90% recycled material. Fully recyclable!
Reviews
See what our customers say
Sample packs
Sample packs
Try before you buy. Select up to 5 samples and test different types of packaging, materials and sizes. Order a sample pack and get your money back with your first order.
Order now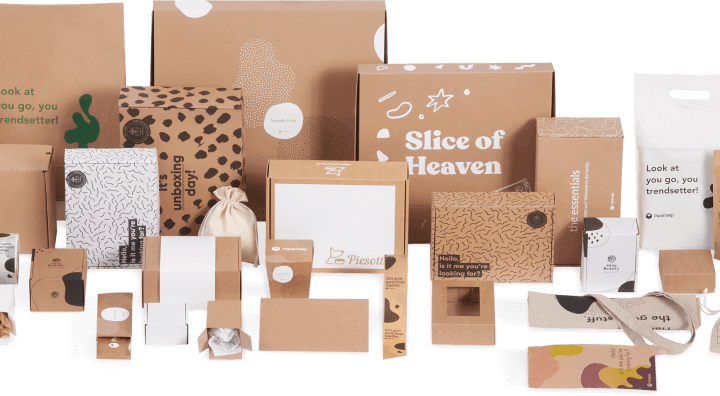 Material
Corrugated cardboard (3-layer Flute E)
Material colour
Natural Kraft
Printing process
Screen or Flexographic Printing
Sizes
A5+, B4, B4+, A3 & A2
Adhesive type
Hot melt glue
FAQ
What sizes are available for these corrugated envelopes?
These envelopes come in five standard sizes in both portrait and landscape formats. They include: 
A5+ – 190 x 272 mm / 200 x 280 mm

B4 – 235 x 337 mm / 250 x 353 mm

B4+ – 248 x 340 mm / 265 x 355 mm

A3 – 335 x 500 mm / 352 x 520 mm

A2 – 414 x 570 mm / 434 x 585 mm
Can I print with multiple colours?
Sure, but it depends on the order quantity and printing process. Smaller orders are printed using four-colour screen printing. Flexographic printing is better for high volume print runs. It's possible to print with up to four colours, but we recommend a max of two colours for the best results. Both printing techniques use the Pantone colour palette.
Can I choose white prints on these kraft envelopes?
Yep, but be aware that light coloured prints (e.g., white and yellow) will appear darker and less saturated on the surface of brown kraft cardboard compared to what you may see on screen. Why? A brown surface simply provides a darker background to the prints and tones down the richness of paler colours. So, if you're not going for the earthy or vintage look, we recommend using only dark colours or muted tones for prints on kraft cardboard.
You can print on up to 30% of the surface area on the front and the back each.
How eco-friendly are these cardboard envelopes?
The cardboard used in these corrugated envelopes is made from a mix of 90% recycled content and 10% certified wood. That means that the paper pulp is sourced from responsibly managed forests and mills. All production is conducted locally in Europe. That keeps the demands on the planet down, along with Co2 emissions generated through transportation. The whole envelope is 100% recyclable.
What is the minimum order quantity?
Orders start from 2500 envelopes.
Subscribe for promotions, special offers and news from the packaging industry.
Great!
You're now subscribed!