Custom Pizza Box
Custom pizza boxes made from 90% recycled cardboard. A new take on the classic pizza box with tailored sizing and branding.
Eco-friendly solution
Eco-friendly solution
100% recyclable corrugated cardboard made from a mix of recycled & certified content.
Custom prints
Custom prints
Offset or flexographic printing in vivid CMYK or Pantone.
Flexible sizing
Flexible sizing
Standard sizes for small, medium or large pizzas. Or pick a size of your choice.
A classic with extra toppings
Keep it classic with black-on-white printing or go full-colour for the complete branding experience. Small, medium, large, mini or whatever size you'd like. On top of that, match your organic ingredients with truly eco-friendly pizza packaging. Made from 90% recycled and 10% certified paper pulp. The whole box is 100% recyclable and biodegradable.
Sample packs
Sample packs
Try before you buy. Select up to 5 samples and test different types of packaging, materials and sizes. Order a sample pack and get your money back with your first order.
Order now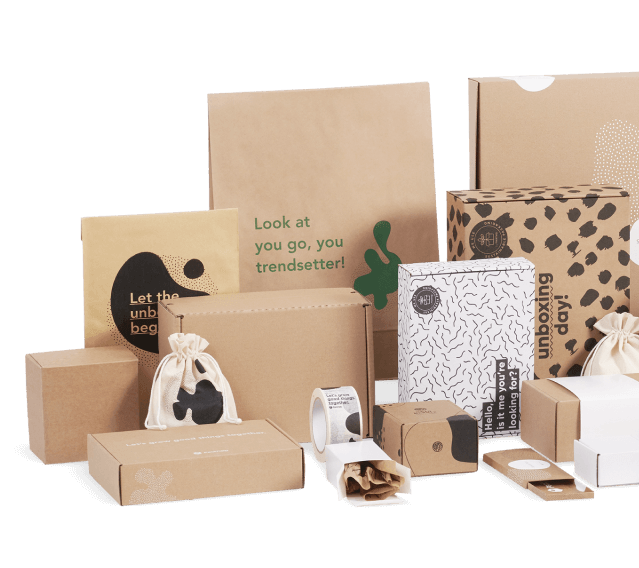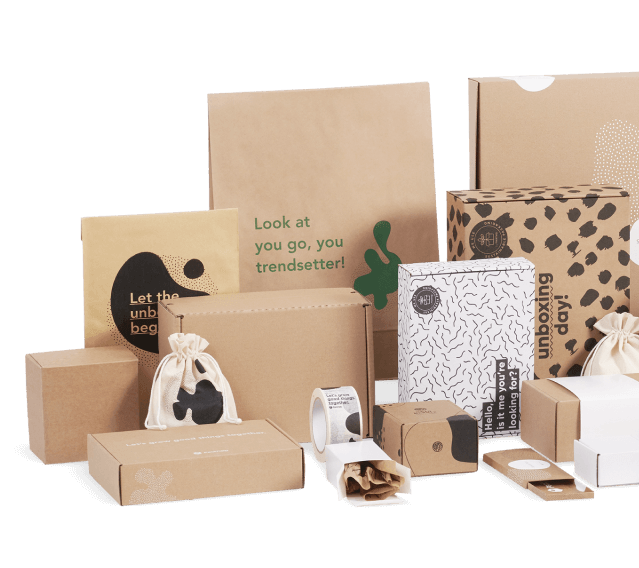 SPECIFICATIONS
Specifications
Material
Corrugated fibreboard - 3-layer E flute
Material colour
Natural Kraft
Colour options
Offset - CMYK/Pantone and Flexo - Pantone
Printing process
Flexographic or Offset Printing
Sizes
S - 30x30x5cm, M - 40x40x5cm, L - 50x50x5cm & custom
FAQ
Why can't I order this product?
Unfortunately, this product is currently being redeveloped. In the meantime, our packaging experts can provide an alternative solution. Just submit a custom quote request here and they'll take care of everything.
What sizes are available for these pizza boxes?
These pizza boxes come with a flexible sizing range. You can choose from three standard-sized pizza boxes:
30x30x5cm – perfect for small (24cm) pizzas

40x40x5cm – perfect for medium (34cm) pizzas
50x50x5cm – perfect for large (43cm) pizzas.
But you can also customize your sizing to fit non-standard sized/shaped pizzas, such as rectangular pizzas.
How eco-friendly is this pizza box?
Your pizza boxes will be locally fabricated in Europe to minimise the carbon footprint of the distribution chain. The cardboard is made from a mix of 90% recycled content and 10% certified wood pulp. The whole box is recyclable and biodegradable. →Learn more about the eco properties of our packaging here.
Are these boxes food safe?
Nope. The corrugated board used in these takeaway food boxes is not certified to have direct contact with food products. But the industry standard is to place a food safe separator between the pizza and corrugated board. TIP: This separator doesn't have to be aluminium foil. To make recycling super easy for your customers, choose butchers' paper. That way your customer can throw the whole box in with their paper recycling.
What's the minimum order quantity for these custom printed pizza boxes?
You can order your pizza boxes from 1500 pieces.
How are the boxes delivered?
As per the industry standard, your pizza boxes will be delivered stacked flat to save on space. That's the most cost-effective method to ship and store these pizza boxes.
What's the quality of the printing like?
The short answer: primo. We offer flexographic and offset printing, which both produce high-quality results. The selection will depend on the order size or the complexity of your design. The CMYK colour palette is available for flexo printing, while you can choose either CMYK or Pantone with offset printing. Reach out during the quoting process and our packaging experts can take you through all your printing options in more detail.
Subscribe for promotions, special offers and news from the packaging industry.
Great!
You're now subscribed!