Pre-Printed Kraft Tape
Recyclable kraft packing tape in two ready-made designs. FSC® MIX certified & labelled! Ready to ship in a click.
Less waiting time
Less waiting time
A ready-made solution shipped to you in a few days.
FSC® Mix certified
FSC® Mix certified
Made using a mixture of materials from FSC® certified forests & recycled materials.
Durable & recyclable
Durable & recyclable
Weatherproof and dust-resistant tape that's 100% recyclable.
Design
Pick a ready-made design
Reviews
See what our customers say
Sample packs
Sample packs
Try before you buy. Select up to 5 samples and test different types of packaging, materials and sizes. Order a sample pack and get your money back with your first order.
Order now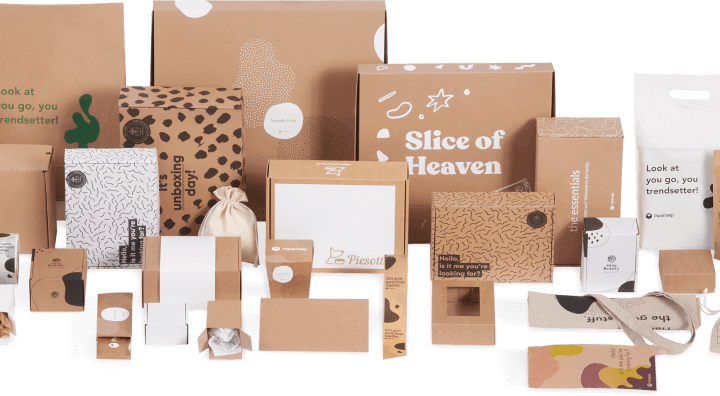 Material colour
Natural Kraft
Tape gun size
48-50mm wide, 75mm core
Adhesive type
Hot Melt (synthetic rubber)
Temperature tolerance
-10°C to +45ºC
Print colour
Pantone White
FAQ
Good question. The FSC® Mix label is defined and certified by the Forest Stewardship Council (FSC®). And just a reminder, the FSC® is an international non-profit organization established in 1993 to promote the responsible management of the world's forests. So, it might be best if the FSC® answered this one themselves: 
"FSC MIX: Products that bear this label are made using a mixture of materials from FSC-certified forests, recycled materials, and/or FSC controlled wood. While controlled wood is not from FSC certified forests, it mitigates the risk of the material originating from unacceptable sources." (Source)
→Click here for more info about the work of the FSC® and their labels.
Does this tape also come in white?
No, not in this case. Our pre-printed tape is only available in Natural Kraft. TIP: head over to Packhelp Plus and check out the Kraft Tape there. It comes with a choice of White or Natural Kraft, along with other extra features. Just keep in mind that the minimum order quantity is 5500 rolls.
Can I design my own tape?
Yes and no. This pre-printed tape is only available in two ready-made designs. But with our customizable Kraft Tape, you can design your own prints with our super easy Online Editor.
What designs are available?
You have two ready-made designs to choose from. One has a fun squiggle pattern, along with FSC® labels and Packhelp eco badges. The other has all the same labels but with a more practical message of "Fragile".
What tape gun does this tape fit?
This tape fits all standard 50mm wide tape guns. To be precise, that's a tape gun with a 48-50mm width and 75mm core.
How much does one roll weigh?
Each roll weighs 212 grams.
The tape is coated with a hot melt glue, which is a synthetic rubber glue. This glue provides a firm and durable bond. It's moisture-resistant and weatherproof, so your packaging will be held securely together during delivery.
How eco-friendly is this tape?
First up, the kraft paper is FSC® MIX certified. That means that it has been made using a mixture of materials from FSC® certified forests and recycled materials. The whole tape is 100% recyclable. So, your customer doesn't need to strip away any tape when recycling your mailer or delivery boxes. The hot melt adhesive is a synthetic rubber glue, which has a lighter environmental footprint than solvent-based glues.
What is the minimum order quantity?
You can order your Pre-Printed Kraft Tape from as little as 36 rolls per order – or in other words, a box of 36 rolls. Why the magic number of 36? The tape comes packed in a shipping box that can fit a maximum of 36 rolls.
Why can't I order 50 rolls?
That's because the tape comes in boxes of 36 rolls each. That means you can only order in multiples of 36. In other words, you can order either 36, 72, 108, 144, 180, 216 or 540 rolls per order.
What is the maximum order quantity?
The maximum order quantity is 540 rolls – or 15 boxes. TIP: if you're looking for higher volumes, check out our Packhelp Plus product Kraft Tape, where you can order up to 20,000 pieces.
How long does it take for my tape to be shipped?
Not long at all. Your tape will be shipped out to you within a few working days.
What is Packhelp's FSC® licence code?
Packhelp's licence code is FSC-C151608.
Subscribe for promotions, special offers and news from the packaging industry.
Great!
You're now subscribed!