Shipping Box
Sturdy large boxes. Designed for shipping bulked goods or very large items.
Instant Quotes
Instant Quotes
Transparent pricing & instant quotes above 2500 units in the blink of an eye. Directly in our editor.
Sturdy Construction
Sturdy Construction
Made from durable corrugated cardboard. Safely carries 20 kg.
Perfect for shipping
Perfect for shipping
Available in a wide range of standard shipping sizes, ideal for delivery to retaillers
Styles
High-quality packaging for bulk shipments
Corrugated cardboard
Highly durable, rigid cardboard. Comes with single or double fluting to guarantee safe delivery
Rich black print
Printed in contrasting black ink.
Highly durable, rigid cardboard. Comes with single or double fluting to guarantee safe delivery
Printed in contrasting black ink.
Reviews
See what our customers say
Sample packs
Sample packs
Try before you buy. Select up to 5 samples and test different types of packaging, materials and sizes. Order a sample pack and get your money back with your first order.
Order now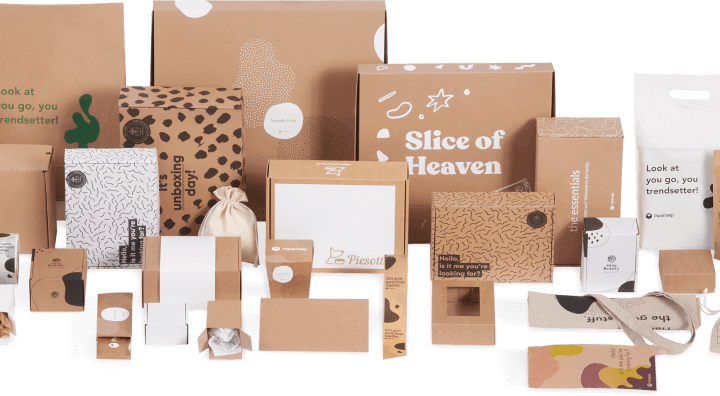 Design your cardboard shipping boxes
Create, design & order online.
UAU Project
UAU & corrugated cartons
UAU used custom branded boxes as part of their design exhibition with multiple objectives in mind – to show off their artwork, promote the exhibitors, and safely transport the installation from gallery to gallery.
Read more about this inspiring story
Material
Corrugated Cardboard - B (three layers) / EB (five layers)
Material colour
Natural Kraft
Grammage
B (450-480gsm/ca. 2.5mm) | EB (ca. 620gsm/5mm)
Colour options
Black only
Printing process
Digital Print
FAQ
Can you print on a shipping carton in a colour other than black?
What sizes do these boxes come in?
These boxes come in a range of standard shipping box sizes.
K90 (35.5 x 30.5 x 25.5 cm) – Perfectly fits 10 x F23 mailer boxes.
K105 (45.5 x 35.5 x 25.5 cm) – Fits 18 x F23 mailer boxes.
K150 (61 x 51 x 41 cm) – fits a microwave with polystyrene, 240 x F23 or 80 x F33 mailers.
K180 (81 x 51 x 51 cm) – ideal for a vaccume cleaner or 20 x F62 mailer boxes.
K200 (101 x 61 x 41 cm) – at over a meter in width, this will hold up to 400 x F23 or 56 x F52 mailers – some seriously big boxes.
These are all standard box sizes for shipping and meet most regulations for USPS, FedEx, UPS, Royal Mail. DeustchePost and other service providers.
Can you make a custom sizes?
How solid are these boxes?
Our shipper cartons are made with a thick and durable corrugated cardboard. For most of the sizes we use a five-layer flute EB, with a heigh of around 5 mm, and the grammage of 660g/m2. They have a total weight capacity of 20kg or 44lbs and can withstand most of the punishment that a lazy courier can throw at them. 
What are the capacities of these boxes?
Our largest box, K200, has a capacity of 240 litres. It can fit up to 400 mailer boxes F23, or 56 mailer boxes F52.
What do you mean by 'instant quote'?
Instant quoting is our system of transparent and instantaneous pricing for wholesale quantities of packaging. With an instant quote, you can get an instant price for custom printed packaging in volumes of 2500 or more.
In order to check the price of a given product, please choose any quantity above 2500 pieces, choose your size and then proceed to the offer.
How long does it take to receive my order?
The standard printing time is 10 working days, but super express production means that your order can be printed in as little as 3 working days, with delivery in the EU or UK taking an average of 2 business days.
Do these shipping boxes come with any sealing options?
Subscribe for promotions, special offers and news from the packaging industry.
Great!
You're now subscribed!