Corrugated Product Box
Cardboard product boxes combining the sharp looks of a display box with the strength of a mailer. Perfect for heavier/larger retail items.
Full-colour display
Full-colour display
Top-quality prints, inside, outside or both. Plus: hot stamping, matt/gloss & UV finishes.
Custom fit
Custom fit
Custom sizing and a range of cardboard to match different product sizes and weights.
Easy storage & assembly
Easy storage & assembly
Pop-and-fold assembly with a choice of snap-lock or reverse tuck bottoms. Delivered & stored flat.
Reviews
See what our customers say
Sample packs
Sample packs
Try before you buy. Select up to 5 samples and test different types of packaging, materials and sizes. Order a sample pack and get your money back with your first order.
Order now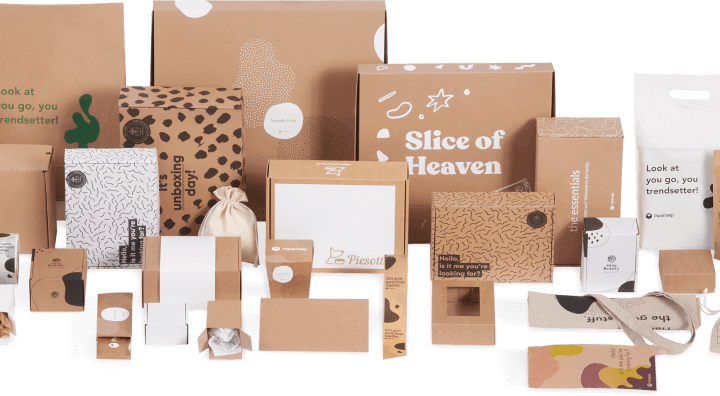 Material
Corrugated cardboard (3 layer flute E/B)
Material colour
Natural Kraft

Standard White
Grammage
3E (360-380gsm) | 3B (460-480 gsm)
Colour options
CMYK or Pantone
Printing process
Offset or Flexographic
Finishes
Hot stamping, matt/gloss lamination and UV varnishing (gloss, matt & spot)
FAQ
What can I pack in these cardboard product boxes?
These product boxes are shelf-ready with the same presentation value as standard cardstock boxes. But the beauty of these boxes is that they're also made from strong corrugated cardboard to hold heavier or larger retail items. These types of retail boxes are popular among electronics, home & garden and office supplies brands. They can hold everything from from vacuum cleaners to a set of large candles. Due to their strength and durability, they are also good for delivering fragile items to stores or customers online.
Are there any standard sizes available?
Sizing is customizable, but there also three standard sizes available (outside dimensions):
A: 100 x 80 x 200 mm
B: 150 x 100 x 100 mm
C: 230 x 210 x 150 mm
If you're looking for a custom sized box, just list your desired dimensions and some info about your products in the quote form. Our packaging experts will then provide the perfect sized box for your products.
What's the difference between the reverse tuck box and the snap lock bottom box?
First up, both box styles are delivered pre-glued and flat for easy storage and delivery. They are also made from the same corrugated cardboard. They slightly differ around assembly and the strength of the bottom. Assembly is quick and straightforward for the reverse tuck box (based on the FEFCO 0211 style). You just need to fold in three straight-edged flaps on the top and bottom of the box each. This is one of the most popular box styles in retail boxes. The snap-lock bottom box (based on the FEFCO 215 style) has the same reverse tuck enclosure for the top, but the bottom requires one extra flap to fold in. The locking mechanism is also a bit fiddlier. But for this reason, the snap-lock bottom is considered to provide more solid support. That makes it a great choice for heavier items.
Can I use this cardboard product box for shipping?
These cardboard product boxes are made from the same three-layer corrugated cardboard (Flute E) as our mailing boxes. They can also be made from higher grades, such as the Flute B used in our shipping boxes. So, theoretically, the box could be used for shipping or courier deliveries as long as they are properly secured. The difference is that mailing and shipping boxes are generally used as protective (secondary) packaging, while product boxes are also used for display. They usually include more sophisticated prints and finishes that require protection. TIP: think about wrapping your boxes in durable packing paper to protect the surface of the box from damage during delivery. Or depending on the box size, you can combine them with our mailing bags
Is it possible to print on both the outside and inside of the box?
Yep. The secret to these cardboard product boxes is that the corrugated card can be layered with offset paper. That means that you can print in full-colour (CMYK) on the outside, inside or both with high quality offset printing. You can also print directly on all sides with flexographic printing with up to 4 colours (Pantone). Just keep in mind that the number of colours and order quantity will determine the printing method used. Reach out during the quoting process and our packaging experts can take you through all your print options
How eco-friendly are these boxes?
The cardboard used in both the snap lock and reverse tuck boxes is made from a mix of 90% recycled content and 10% certified wood. That means that the paper pulp is sourced from responsibly managed forests and mills. All production is conducted locally in Europe. That keeps the demands on the planet down, along with Co2 emissions. The recyclability of your boxes all comes down to whether you include a finish or not. Without any foils, the box is 100% recyclable. But the box becomes non-recyclable after plastic lamination.
What finishes are available?
You can give your cardboard product boxes a standard matt or gloss finish, both on the inside and outside. Likewise, UV gloss/matt/spot varnishing can be applied to both sides of the material. Add some extra wow with hot stamping. Just a heads up, these add-ons are only available through offset printing.
What is the minimum order quantity?
You can order your boxes from 1500 pcs.
Subscribe for promotions, special offers and news from the packaging industry.
Great!
You're now subscribed!