Custom Labels
Custom labels & stickers with top quality printing & solid-bonding adhesives. Perfect as packaging stickers and product labels.
Customization
Customization
Various design options to make your decals entirely unique.
Any surface
Any surface
Stays stuck on metal, glass, PET, ABS and uneven surfaces.
Print options
Print options
High-quality CMYK printing.
Reviews
See what our customers say
Sample packs
Sample packs
Try before you buy. Select up to 5 samples and test different types of packaging, materials and sizes. Order a sample pack and get your money back with your first order.
Order now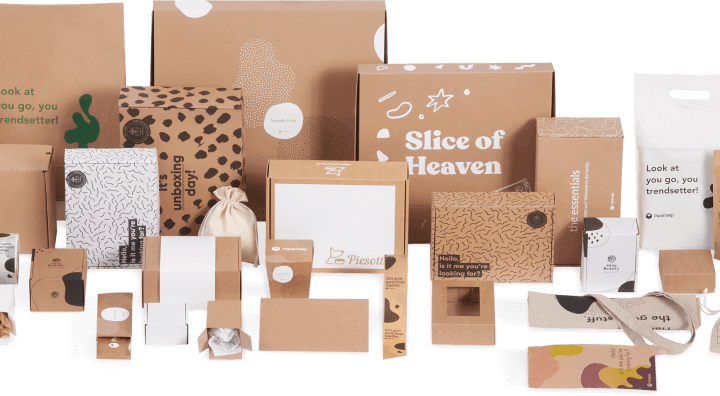 Material colour

Standard White
Adhesives
Rubber-based glue
Die-cut shapes
Rectangular, square or circular
FAQ
What is the minimum order quantity for these types of stickers?
The minimum order for these custom labels is 250 pieces.
What are the size options?
These labels are available in several different sizes. 
25 x 25mm
50 x 50mm
75 x 75mm
100 x 100mm
25 x 50mm
50 x 75mm
50 x 100mm
75 x 125mm
Circular – 25mm ⌀
Circular – 50mm ⌀
Circular – 75mm ⌀
What shapes are available for these product labels?
These labels have square, rectangular and circular options.
What material are they made of?
These custom labels are made of white, machine-coated paper with rubber-based glue. Your labels will be digitally printed using oil-based ink.
Are these stickers weatherproof?
Our labels can withstand the occasional splash of water, but they are not designed to be stuck on the outside of a shipping box or to face the elements during the delivery process. If you worry about your design getting all dripping wet, we strongly recommend using an external layer of packaging, such as Bio Poly Mailers.
Are these custom labels eco-friendly?
Yes, they are! Rubber glues come from a natural source and are plastic-free. In this sense, they are a better eco option than chemical-based glues, like acrylic. Custom labels are also recyclable.  →Learn more about the eco properties of our packaging here.
Just note that the eco properties mentioned here only apply to this specific product in Packhelp Studio with the specifications advertised. If you want to further customize this product, just reach out during the quoting process and our packaging experts will give you an updated rundown of the eco properties of your custom packaging.
Subscribe for promotions, special offers and news from the packaging industry.
Great!
You're now subscribed!