Eco Colour Mailer Box
Colourful print on whitened, uncoated cardboard. Ecommerce ready, with a soft look and an all-natural character.
Instant Quotes
Instant Quotes
Get volume discounts and pricing on the spot with orders above 2500 pcs.
Soft colours
Soft colours
A softened colour print on top of a natural cardboard texture.
The eco-friendly choice
The eco-friendly choice
Completely recyclable and made from 70% recycled content.
ECO PROPERTIES
Available sustainable options:
When exposed to light, air, moisture and microbes, this product breaks down to natural elements found in nature.
Locally manufactured in Europe, meaning a lower transportation footprint compared to goods produced and imported from abroad.
Contains no petroleum-based plastics.
Can be broken down and used as a new material.

Contains at least 60% of recycled materials.
A spectacular look to talk about
Eye-catching, soft colours will make your mailer boxes stand out from all the other deliveries in offices and on doorsteps. Add an additional layer of surprise by printing inside the box.
Make it your own
The sense of touch addressed
The eco-colour mailer box combines colourful prints with sustainable materials. Each design is printed directly on a whitened surface. This technique makes the prints look more subtle, with a visible cardboard texture.
Design now
Reviews
See what our customers say
Sample packs
Sample packs
Try before you buy. Select up to 5 samples and test different types of packaging, materials and sizes. Order a sample pack and get your money back with your first order.
Order now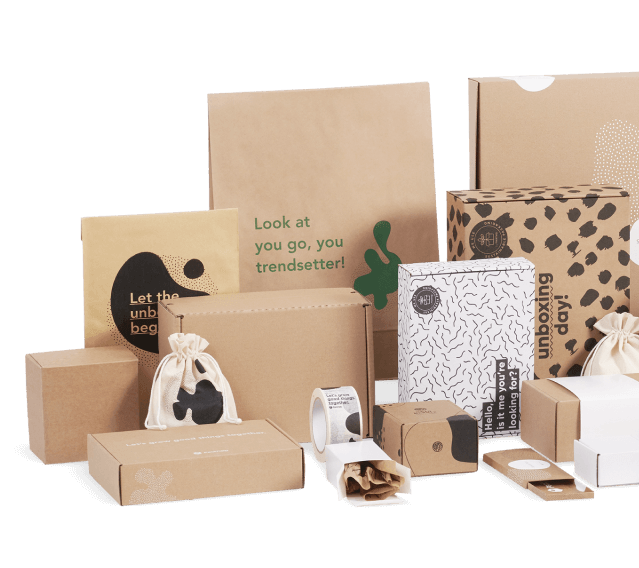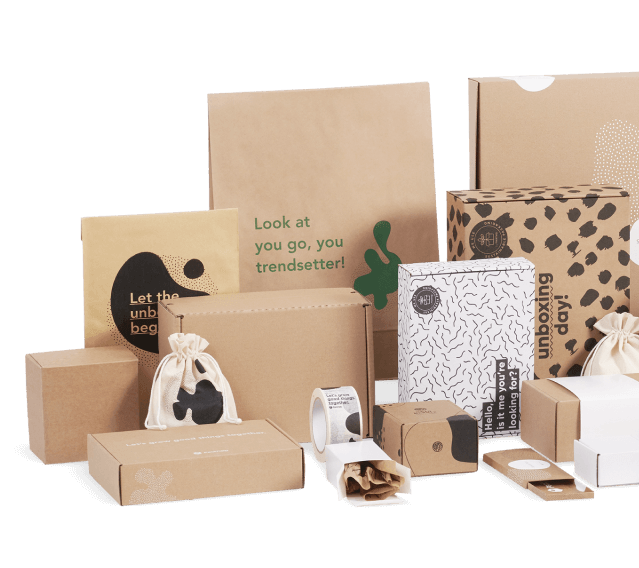 SPECIFICATION
Specifications
Material
Corrugated fiberboard E (3-layer), B (3-layer) (PAP20)
Material colour

Standard White
Grammage
(E) 1,75 mm, 460g/m2; (B) 2,8mm, 510g/m2
Printing process
Digital Printing
Customer Story
Stories from our customers
Eco Beauty Wellness
Light, delicate designs take well to the subtle texture of cardboard. The Finnish beauty salon, Eco Beauty Wellness, used this concept on the packaging for their organic cosmetics.
Read more about this inspiring story
FAQ
Can you print inside an Eco Colour Mailer Box?
Yes, you can! You can create a unique design for the inside of your packaging using our online editor, and the price will be updated instantly. You can also design the inside of your box by downloading the dieline and designing on there. Using the designer, you can also keep the outside of your box blank, but create a unique design for the inside.
Is it possible to order Eco Colour Mailer Boxes in a custom size?
Yes, you can order eco-colour mailer boxes in sizes tailored to your product.  To proceed with this option, please complete a brief form.
Are Eco Colour Mailer Boxes environmentally friendly?
Our eco-colour mailer boxes are made from at least 70% recycled material. No glue is used in the production process, meaning the whole box can be recycled without issues. The cardboard is uncoated, completely plastic-free & biodegradable.
Can you use Eco Colour Mailer Boxes to ship products?
The construction of our eco-colour mailer boxes is designed for shipping and transport. E-commerce companies often use this type of packaging as a shipping solution. This type of cardboard is a durable material that can be used to send bight and heavier items & just about anything that fits inside!
Which sizes of Eco Colour Mailer Boxes work best for clothing and shoes?
The recommended size will depend on the dimensions of your garment. If you sell lightweight clothing items such as blouses, trousers, t-shirts, skirts, etc.,  your safest bet is the F79 model (36.4 x 31.4 x 12.5 cm). For storing & shipping shoes, the standard choice is our F71 box (35 x 26 x 10 cm). And the best news is that both options are customisable in our Online Editor Box.
What is the difference between Full Colour Mailer Boxes and Eco Colour Mailer Boxes?
The difference between these two products is the look of your print. Using eco-colour mailer boxes, your design is printed directly on the whitened cardboard. The result is more subtle, with the visible texture of cardboard underneath.
Full-colour mailer boxes, on the other hand, are covered with a layer of white paper that is laminated with foil on top. This makes every imprint look very saturated and lively. They can also be covered with matt or glossy foil to add a more premium feel.
What are Instant quotes?
Instant quotes is our system of transparent pricing for wholesale quantities of packaging. With instant quotes, you can quickly screen our pricing for the standard sizes and custom sizes of packaging for 2500 pieces & more. In order to check the price of a given custom packaging solution, please choose any quantity above 2500 pieces, choose your size and then proceed to view the offer.
Are instant quotes available for all products at Packhelp?
We are working on it, but until now, the instant quotes system is available on all mailer boxes, shipping boxes and classic product boxes. Sign up for our newsletter to stay updated with our product developments!
Subscribe for promotions, special offers and news from the packaging industry.
Great!
You're now subscribed!
Australia & Oceania

Belgium

Bulgaria

Canada

Croatia

Denmark

Estonia

Finland

Greece

Hungary

Ireland

Latvia

Lithuania

Luxembourg

Norway

Portugal

Slovakia

Slovenia

My country is not listed