Muslin Bag
Drawstring muslin bags made from ethically-sourced and sustainable fabric. Big sizing range and bespoke prints. Perfect for jewellery.


Recycled & Organic
Recycled & Organic
Materials made from a choice of organic cotton or recycled textiles.
Refined Design
Refined Design
Seal and open with a linen drawstring.
Versatile
Versatile
Works well with jewellery, handicrafts, soaps, candles & other small items.
Sample packs
Sample packs
Try before you buy. Select up to 5 samples and test different types of packaging, materials and sizes. Order a sample pack and get your money back with your first order.
Order now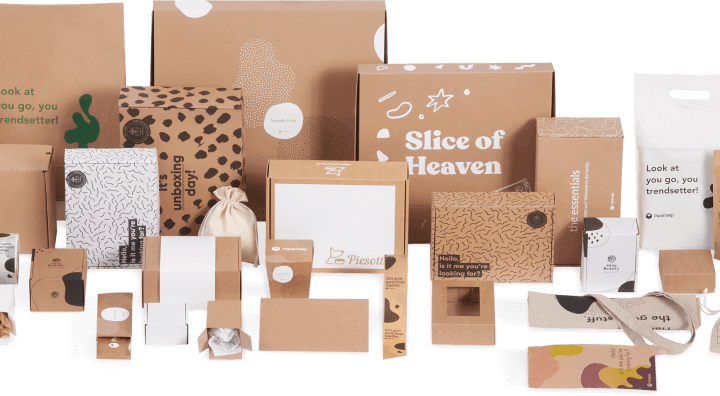 Material
Organic cotton / recycled textiles
Material colour

Light Beige
Light Grey
Grammage
150g organic cotton / 150g recycled textiles
Printing process
Screen printing
Inks
Phthalate-free paints / water inks (upon request)
Sizes (outside dimensions/cm)
Custom or 6x8, 8x12, 10x15, 12x15, 15x20, 20x25, 25x30, 30x40, 50x75, 60x85
FAQ
How is the recycled material made in these muslin bags?
A muslin bag made from "recycled textiles" means that the material has been produced from a mix of would-be waste materials. They are broken down and re-processed to produce new material. These waste materials include used clothes, off-cuts from the production of garments, recycled yarn, regenerated fabrics and even PET bottles. By extending the lifecycle of textiles, we can help to reduce the environmental impact arising from the resource-intensive production of raw materials like cotton. On average, it takes 10,000 litres of water to produce one kilogram of cotton. The production of our muslin bags is authorised and audited by the Textile Exchange organisation. It is based on the global Recycled Claim Standard (RCS).
What makes these organic cotton drawstring bags?
The organic cotton used in these muslin bags has been produced from plant-based raw materials that have been cultivated according to strict organic agricultural standards. This means the removal of artificial inputs from the production process. These include toxic chemicals, genetically modified organisms (GMOs), inorganic fertilizers, pesticides and antibiotics. On a broader level, it involves a commitment to a type of production that sustains the health of soils, ecosystems and people through the use of natural processes. A mix of age-old farming techniques and modern science goes into upholding these standards and promoting the most efficient production methods. Organic materials require careful packaging and proper markings/labels featuring certification codes. These muslin bags are manufactured as per the ECO PASSPORT certificate. It is administered and controlled by the international textiles standards organisation, OEKO-TEX®.  
How can I use muslin bags?
These bags are an Etsy seller's dream. The size, organic look and drawstring enclosure make these muslin bags ideal for jewellery, handicrafts, soaps, candles, pre-packaged dry goods and even gifts for wedding guests or other events. TIP: they look great tucked away in subscription boxes, invitation boxes or presentation boxes.
Are muslin bags the same as tote or cotton bags?
While the material is similar, muslin bags are a little different to cotton bags and tote bags. Muslin bags are usually smaller with drawstrings. That makes them resemble more like pouches. The main difference between our muslin bags and other cotton bags on the market revolves around materials. These muslin bags are made from either organic cotton or recycled textiles. The material is both breathable and dust proof. This is a rare combination, especially compared to bags made from leather or other natural materials.
How can I customize these bags?
First, your options begin with materials and colours. Choose either the natural grey muslin bag made from recycled textiles or the natural white option made from organic cotton. High-quality screen printing in Pantone (phthalate-free ink) will cover all your branding needs. As add-ons, you can also request sewn internal/external pockets, bespoke tags and other drawstring options.
How big is the print area?
It depends on a few factors. You can print on just about every inch of the surface on both sides if you request full customization and have your bags made from scratch. Just keep in mind that this option might extend the lead and delivery times. Whereas, the print area reduces for screen printing as designs need to be centred. Reach out during the quoting process and our packaging experts can take you through your options.
What sizes are available?
You can choose one of our 10 standard sizes below or supply your own dimensions for a custom-sized pouch.
Available sizes (outside dimensions/ WxH):
MB14 – 6 x 8cm
MB20 – 8 x 12cm
MB25 – 10 x 15cm
MB27 – 12 x 15cm
MB35 – 15 x 20cm
MB45 20 x 25cm
MB55 25 x 30cm
MB70 – 30 x 40cm
MB125 – 50 x 75cm
MB145 – 60 x 85cm
What is the minimum order quantity?
You can order your muslin bags from 2000 pieces per order.
Subscribe for promotions, special offers and news from the packaging industry.
Great!
You're now subscribed!