Pre-Printed Eco Mailer Box
Eco-friendly cardboard shipping boxes with a pre-made design.
Low minimum orders
Low minimum orders
Order from as little as 30 pieces to start off your custom packaging journey.
The eco-friendly choice
The eco-friendly choice
Fully recyclable and made from a minimum of 70% recycled material.
Eye-catching designs
Eye-catching designs
Expert ready-made designs that will make your packaging stand out.
ECO PROPERTIES
Available sustainable options:
When exposed to light, air, moisture and microbes, this product breaks down to natural elements found in nature.
Locally manufactured in Europe, meaning a lower transportation footprint compared to goods produced and imported from abroad.
Contains no petroleum-based plastics.
Can be broken down and used as a new material.

Contains at least 60% of recycled materials.
Standout packaging that leaves no trace
Our range of corrugated packaging is made from recycled paper pulp, so you can be sure your boxes were or can be, a newspaper, cereal box or school book in their previous life or the next.
See the range
Easy on the planet but tough on protection
Our corrugated mailer boxes are tough, rugged and durable, designed to keep your products safe as they're thrown into the back of a lazy courier's van.
Shop now
Reviews
See what our customers say
Sample packs
Sample packs
Try before you buy. Select up to 5 samples and test different types of packaging, materials and sizes. Order a sample pack and get your money back with your first order.
Order now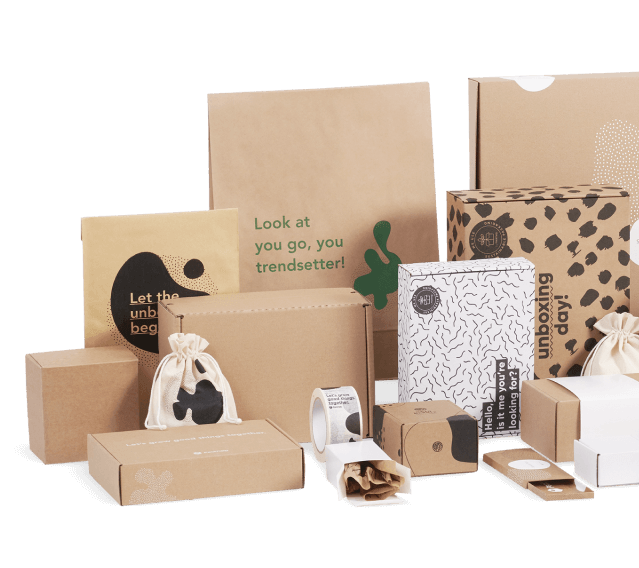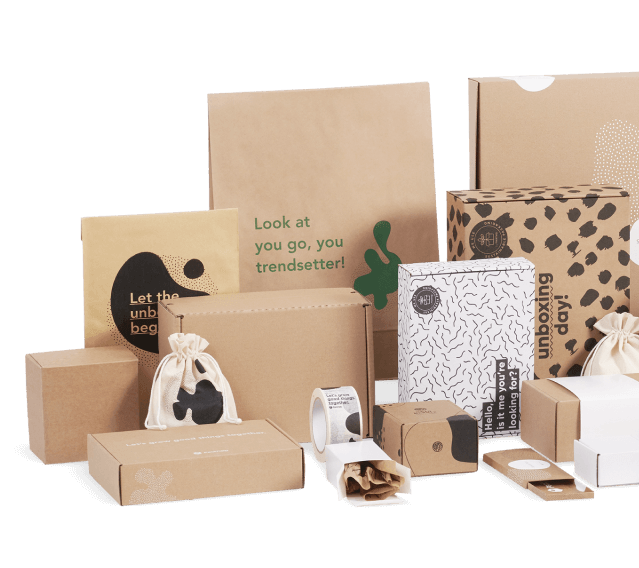 SPECIFICATIONS
Specifications
Material
Corrugated fibreboard E (3-layer, PAP 20)
Material colour
Natural Kraft
Grammage
1.5mm thick, 380 g/m2
Printing process
Flexo print
Recycled Content
Min. 90%
Available sizes
F52 & F71
FAQ
Can I customize a pre-printed mailer box?
No. Pre-printed boxes are designed to quicken up the ordering process so you have ready-made designs that are good to go.  If you want to customize your boxes, opt for our regular mailer boxes and design them yourself in our online editor.
What sizes do these boxes come in?
Our pre-printed eco-mailer boxes are available in two sizes:
F52 (fantastic for shipping books, DVDs & even small electronics)
| | |
| --- | --- |
| Internal measurements: | 24.9 x 19 x 5.5 cm |
| External measurements | 26.5 x 19.5 x 6 cm |
F71 (perfect for shipping clothes or A4 paper-sized items)
| | |
| --- | --- |
| Internal measurements: | 33.7 x 25.5 x 9.5 cm |
| External measurements | 35 x 26 x 10 cm |
Remember! The design of your boxes will differ depending on the size of the box you choose.   
Can I get the pre-printed eco-mailer in more colours than black?
The ready-made designs for our eco-mailer boxes are only printed in black. These striking and attractive designs offer a sophisticated look to your packaging while still being environmentally conscious. And with minimal effort on your part. Printing is black to keep costs down and ensure these boxes are as eco-friendly as possible. However, try our pre-printed full-colour mailer boxes if you need more colours.
Are pre-printed eco-mailer boxes environmentally friendly?
Eco-mailer boxes are made from a min. 70% recycled kraft material, and we use no glue in the production process. These features make eco-mailer boxes one of Packhelp's most environmentally friendly packaging solutions.
Are pre-printed eco-mailer boxes good for shipping products?
The eco-mailer boxes are made from rigid, corrugated cardboard, making them great for delivering goods. We use three layers of paper board to offer your products as much protection as possible. Both sizes of eco-mailers are perfect for courier deliveries and are named "mailers" based on their purpose.
What can I ship in pre-printed mailer boxes?
Our pre-printed mailer boxes come in two different sizes. F52 is fantastic for shipping: books, CDs and even small electronics. In comparison, the F71 is the perfect size for clothes or small fashion items and accessories.
What's the difference between the pre-printed full-colour mailer box and the pre-printed eco-mailer box?
For pre-printed eco-mailers, the print is only in black with a natural kraft cardboard look. On the other hand, pre-printed full-colour mailer boxes have vibrant, lively, colourful designs.
Subscribe for promotions, special offers and news from the packaging industry.
Great!
You're now subscribed!
Australia & Oceania

Belgium

Bulgaria

Canada

Croatia

Denmark

Estonia

Finland

Greece

Hungary

Ireland

Latvia

Lithuania

Luxembourg

Norway

Portugal

Slovakia

Slovenia

My country is not listed