White-On-Kraft Mailer Box
Custom printed kraft mailer boxes with white print. Recyclable & eco-friendly - an all-time customer favourite.
Instant Quotes
Instant Quotes
Transparent pricing for quotes above 2500 in a blink of an eye. Directly in our editor.
Eco - we got that covered
Eco - we got that covered
Fully recyclable and made from at least 60% recycled materials.
Sense of occasion
Sense of occasion
A special, white print brings a new quality to classic cardboard.
ECO PROPERTIES
Available sustainable options:
When exposed to light, air, moisture and microbes, this product breaks down to natural elements found in nature.
Locally manufactured in Europe, meaning a lower transportation footprint compared to goods produced and imported from abroad.
Contains no petroleum-based plastics.
Can be broken down and used as a new material.

Contains at least 60% of recycled materials.
The look for a special occasion
A super chic box, with a hint of nature. Make a stunning impression with prints inside and outside.
Order now
Low footprint
We're all about giving you the most sustainable solution for your business. When you buy this product, you choose a plastic-free packaging made with nature in mind, from at least 60% recycled content and fully recyclable. 
Order now
Reviews
See what our customers say
Sample packs
Sample packs
Try before you buy. Select up to 5 samples and test different types of packaging, materials and sizes. Order a sample pack and get your money back with your first order.
Order now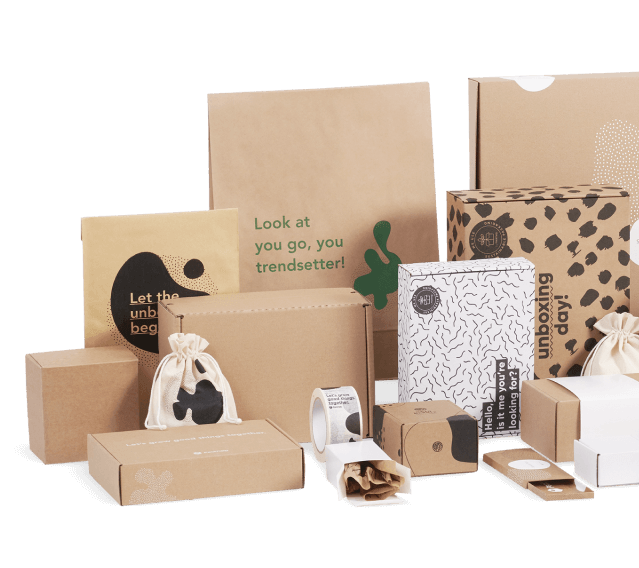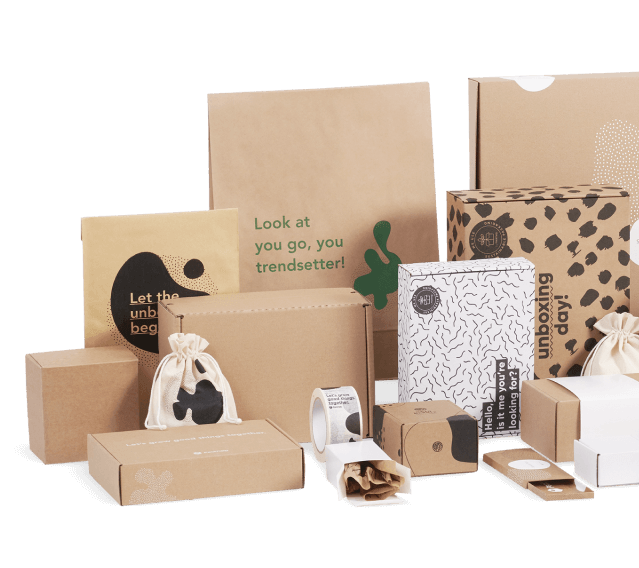 SPECIFICATION
Specifications
Material
Multi-layered Cardboard - Natural Kraft E (3-layer), B (3-layer) (PAP 20)
Material colour
Natural Kraft
Grammage
(E) 1,75 mm, 440g/m2; (B) 2,8mm, 483g/m2
Printing process
Digital Printing
Recycled Content
Min. 60%
FAQ
Is it possible to print inside a White-On-Kraft Mailer Box?
Yes, you can! You can create a unique design for the inside of your packaging using our online editor, and the price will be updated instantly. You can also design the inside of your box by downloading the dieline and designing there. Using the designer, you can also keep the outside of your box blank but create a unique design for the inside.
What's the difference between UV digital and Flexo printing?
The main differences relate to colour saturation and printing volumes. UV printing has a high saturation point, which generally produces rich whites with high contrast. But it's not the most cost-effective method for high volumes. Flexographic printing, on the other hand, produces the best results at high volumes while keeping costs down. It has a lower saturation point and produces softer white prints, especially against the natural brown cardboard. UV printing is assigned to orders below 240 pieces, while orders above 240 pieces are printed with Flexo.
Does the price include the cost of my design (logo and graphics)?
The pricing on our website includes the cost of printing your unique graphics and designs. For custom printing options like hot-stamping, embossing/debossing, and UV Varnish (to name a few), please fill in a brief. 
Is it possible to order White-On-Kraft Mailer Boxes with custom sizes?
Are White-On-Kraft Mailer Boxes environmentally friendly?
All our boxes are made with recycled materials, and we do not use any glue during their production. White-On-Kraft Mailer Boxes are fully recyclable and Made in the EU; hence, they are one of the most environmentally friendly boxes available.
Are White-On-Kraft Mailer Boxes strong enough to send by post by themselves?
These boxes are constructed to meet shipping and transport requirements, and it is used mainly by various subscription box companies and e-commerce businesses to send their products by post. We recommend requesting a thicker flute if you're planning on shipping very heavy items. We can get started after you fill in a brief to proceed with this option.
What are the standard sizes that you recommend for clothes or shoes?
White-On-Kraft Boxes look very elegant, which makes them a perfect choice for clothing companies. For shipping of larger garments, we recommend the size F79 (36.4 x 31.4 x 12.5 cm). This box was tailored for the fashion industry – it's great to ship shoes, blouses, trousers, etc. A slightly smaller box F71 (35 x 26 x 10 cm) will also work perfectly for shipping clothes. 
Subscribe for promotions, special offers and news from the packaging industry.
Great!
You're now subscribed!
Australia & Oceania

Belgium

Bulgaria

Canada

Croatia

Denmark

Estonia

Finland

Greece

Hungary

Ireland

Latvia

Lithuania

Luxembourg

Norway

Portugal

Slovakia

Slovenia

My country is not listed