Stand Up Pouch With Label
Create your sealable pouch with a custom-designed label. Ideal for food, sweets and small accessories.
Ideal for food and small accessories
Ideal for food and small accessories
A lightweight and unique packaging option.
Secure sealing options
Secure sealing options
Resealable zipper options for long-lasting freshness.
Multiple finishes
Multiple finishes
Black, white or kraft stand-up pouches as the basis of your design.
Reviews
See what our customers say
Sample packs
Sample packs
Try before you buy. Select up to 5 samples and test different types of packaging, materials and sizes. Order a sample pack and get your money back with your first order.
Order now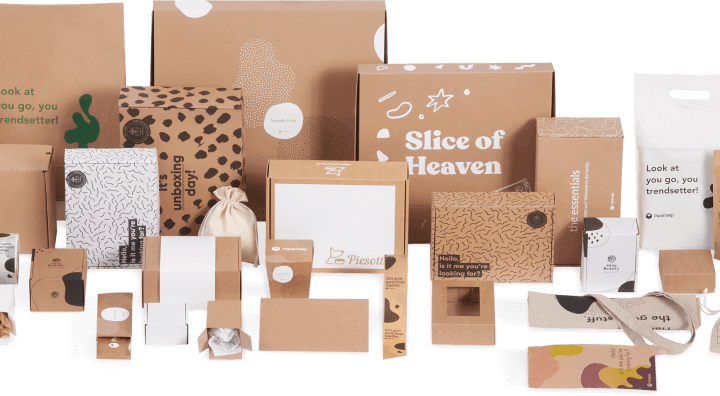 Material
Kraft: Kraft paper 60/vmPET12/PE60 Black and white: BOPP25/vmPET12/PE100
Material colour
Black
Natural Kraft

Standard White
Printing process
Digital print
Print
available only on the label in CMYK
FAQ
How will I receive my pouches?
Your pouches and labels will be delivered together but the labels will not come fixed to the pouches. 
What material can my pouches be made from?
Your stand up pouches are made from different materials depending on the colour you pick.
Brown: Kraft paper 60 // vmPET12 // PE60
Black and white: BOPP25 // vmPET12 // PE100
What sizes are available?
These stand up bags are available in several sizes. Each size has a label that maximises the available space.
70g (250ml) – 110x170x70 mm – Label – 50×75 mm

150g (500ml) – 130x210x80 mm – Label – 75×125 mm

250g (750ml) – 160x230x90 mm – Label – 75×125 mm

500g (1000ml) – 190x260x110 mm – Label 75×125 mm
Note: Use the dimensions in grams and millilitres as just a guide. The capacity of a stand up pouch is dependent on the type of product to be packed, such as coffee grains or liquid. Every substance has a different ratio of mass to volume (i.e., density). That's why it's best to use the physical dimensions of the pouch and match them to your specific product. If you're still unsure, please add a note at check out or contact customer support.
What are the common uses of stand up pouches?
These pouches are typically used as primary packaging for tea, supplements, nuts, spices, cereals/muesli, CBD products, protein powder, snacks for pets, sweets and coffee. 
Additionally, they can be used as secondary packaging for socks, t-shirts, toys etc.
Are these pouches eco-friendly?
As these pouches contain plastic in the sealing mechanism, they cannot be recycled. They can, however, be washed and reused indefinitely.
Are these standup pouches safe for food contact?
Yes! The industrial name for these pouches is Doypacks, and Doypacks originated to carry smaller amounts of food while keeping them fresh. Packhelp's range of stand up pouches, or food pouches, can be used to carry any form of food. Most commonly they're used for coffee, seeds, nuts, wheat, sweets, and other dry goods.
What form of sealing or locking options are there?
Our range of stand up pouches is designed to be heat-sealed and opened with a resealable zip lock. This will ensure that your products stay safe and fresh for as long as possible in your stand up zipper bag.
How can I order stand up pouches from Packhelp?
To order your standup pouches with Packhelp, scroll to the top of this page, pick the size and quality of stand up pouches you'd like, and then follow the prompts to our online editor. Here, you'll be able to design the label for your stand up pouch. Once finished, you'll be able to place your order, pay for it, and select your delivery options.
Can I design and print onto the bag without the label?
If you wish to design stand up pouches without the label but print directly onto the pouch itself, please take a look at our Packhelp Plus Doypacks. Here, we offer a more detailed design process and many other customisation features.
What's the minimum order quantity?
The minimum order quantity for stand up pouches is 250 pieces.
Subscribe for promotions, special offers and news from the packaging industry.
Great!
You're now subscribed!