Counter Display Box
Counter display boxes with custom sizing, box designs and prints to deliver and present your retail goods in style.
Easy assembly & delivery
Easy assembly & delivery
Range of materials & sizes to suit different goods & delivery needs.
Top in-store display
Top in-store display
Tear & fold design for easy display. Choice of two types of display.
Hiqh-quality prints
Hiqh-quality prints
Print in full colour, inside and out. Offset & Flexo printing options.
Your products. Displayed your way.
Ready for full customization in design and sizing? Tailor these counter display boxes to your needs, with easy tear-away display, inside-outside prints, adjustable bottoms and cut-out fronts. All to accommodate any kind of product you sell in brick-and-mortar stores.
Worry-free delivery.
No matter how fragile or heavy, you have all the materials you need to secure your goods during delivery. Cardstock is perfect for chocolate bars and supplements. Corrugated cardboard is great for larger goods. And once delivered, it's one quick action to tear the top off, and your products are ready to shine!
Reviews
See what our customers say
Sample packs
Sample packs
Try before you buy. Select up to 5 samples and test different types of packaging, materials and sizes. Order a sample pack and get your money back with your first order.
Order now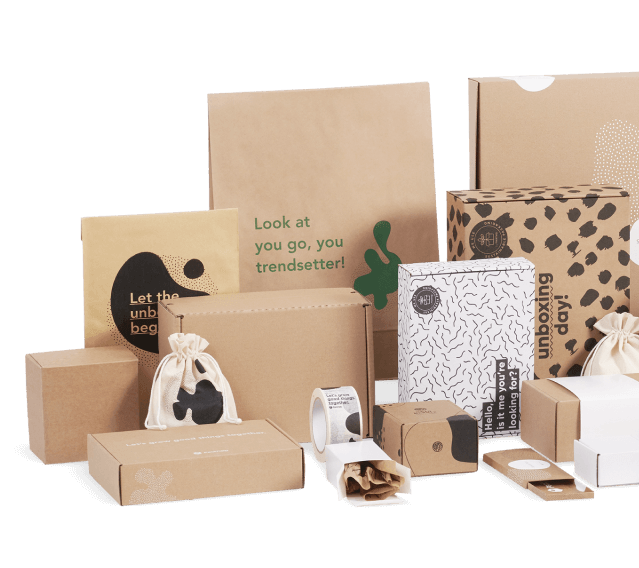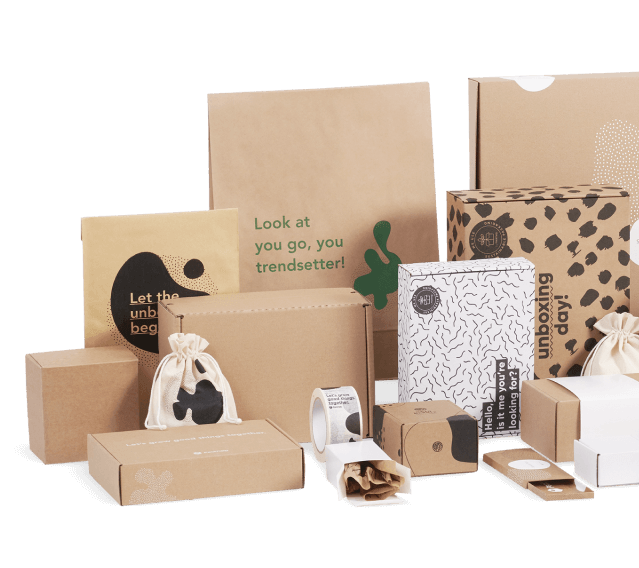 SPECIFICATION
Specifications
Material
Depends on the box design
Material colour
Natural Kraft

Standard White
Grammage
Depends on the box design
Printing process
Offset printing / Flexo printing
Cartonboard variant
GC1 or Kraft (grammage - 300 or 350 gsm)
Corrugated cardboard variant
3E (360-380gsm) or 3B (460-480 gsm)
Lifting capacity
Cartonboard - up to 1.5 kg / Corrugated cardboard - above 1.5 kg
FAQ
Why can't I order this product?
Unfortunately, this product is currently being redeveloped. In the meantime, our packaging experts can provide an alternative solution. Just submit a custom quote request here and they'll take care of everything.
What can I pack in these cardboard display boxes?
Counter display boxes are a hybrid packaging solution. Firstly, they are designed to protect retail goods during transit. After folding the top of the boxes into the back stand slot, they then become mini display stands to present smaller packaged items in-store. They could be placed on shop counters or other shelves. Plus, the tear-and-fold design speeds up the process of stocking shelves. For this reason, these cardboard display boxes have become the go-to food packaging for fast-moving consumable goods (FMCGs), such as chocolates, sweets, dry goods and other packaged food products. With custom sizing and materials, they can also package and display packets of food, shampoos, detergents and personal-care products, just to name a few. All in all, these boxes can be used to package and present just about every product in a brick-and-mortar store.
What box styles are available?
These boxes can be customized to match different products as well as transit and display requirements. Here, you have a lot of options to cover both functions. In terms of display, your display boxes can be made with:
a break-line on the top flap and a diagonal tear-line down the sides and front. After folding back the top flap into the back stand slot, the box becomes a mini display stand for stacked products. This option maximises the exposure of your products. 

a break-line on the top and a cut-out on the front. This style provides a higher wall around the box to prevent your products from tumbling out while on an incline. But the wall will slightly limit the exposure of your products. 
You can also customise the shape of the back stand and the front cut-out. In terms of protection, your display boxes can be made from cardstock (300-400gsm) or heavier 3E-3B corrugated cardboard. It all depends on the mode of distribution or how fragile your product is. Reach out during the quoting process and our packaging experts will take you through all your options.
What sizes are available for these counter display boxes?
Sizing is fully customizable to suit all different products and sizes. So, you can order everything from small chocolate bar display boxes to mini display stands made from sturdy corrugated cardboard. It's up to you. Just tell us a bit about your product and our packaging experts will provide the most optimum size. Alternatively, you can pick one of our standard sizes (outside dimensions):
90 x 110 x 110 mm
145 x 185 x 60 mm
200 x 300 x 150 mm
What's the maximum weight that these cardboard display boxes can handle?
It depends. The strength of your display boxes will be determined by the construction design and the material you choose. These counter display boxes can be made from 300gsm kraft cardstock and white GC1 cardstock (300-400gsm). For heavier products and larger displays, your boxes can be made from 3-layer E (360-380gsm) and B (450-480gsm) corrugated cardboard. Reach out during the quoting process and our Packaging Experts can provide you with more detailed answers and a solution tailored to your product's specifications.
Can I print inside these counter display boxes?
Yep, you sure can. In fact, you can print in full colour on just about every inch of the surface, inside and out.
Are these cardboard display boxes delivered pre-glued, flat or fully assembled?
These display boxes are delivered pre-glued and folded flat, but not assembled. The box is glued at one point on a side flap during the production process. This saves you from applying any adhesives, meaning assembly is quick and easy. Just pop open the collapsed box and fold in the bottom and top.
Is it easy to fold?
Yep. The Counter Display Box has been specially designed for quick & easy assembly. It comes pre-glued with an automatic bottom. Just pop open the collapsed box and fold in the top opening. That's it.
What's the minimum order quantity?
You can order your display boxes from 1500 pieces.
Are they food safe?
No. The cardstock used in these display boxes is not certified to have direct contact with food products. It would require a special foil for food-safe certification. But these boxes are usually used for packaged food where a wrapper separates the food from the cardstock. Check out our Cake Box which can be used for all types of baked goods. →Alternatively, you can find our whole food packaging range here.
Australia & Oceania

Belgium

Bulgaria

Canada

Croatia

Denmark

Estonia

Finland

Greece

Hungary

Ireland

Latvia

Lithuania

Luxembourg

Norway

Portugal

Slovakia

Slovenia

My country is not listed