6 Creative Ways to Use Packaging Stickers As a Branding Tool
Karolina Borak | 5 min read
Subscribe to stay updated
Great!
You're now subscribed!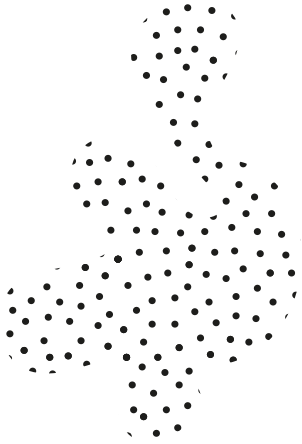 It's no secret that nowadays, standing out from the crowd is half the battle when it comes to marketing. 
In fact, many would agree that successfully distinguishing your products from their competitors is nothing short of an art form. This isn't surprising—after all, it involves your packaging capturing attention, sparking curiosity, and leaving a lasting impression. 
While there are many ways to do this, some of them can be overlooked. One example? Packaging stickers!
Yes, you read that right. Those little adhesive wonders, often forgotten by brands designing their packaging, can be just what's needed to elevate your business.
Confused about how this could be the case? Don't worry. In this article, we'll cover:
What defines packaging stickers

Why they should have a role in your branding strategy

How to use them creatively

What to remember when creating your custom packaging stickers and labels.
What exactly is a packaging sticker?
Before launching into how and why you should use packaging stickers for your branding, let's first look at what they are.
Simply put, they're informative or decorative labels affixed to the envelope, container or box that goods are being sold or sent in.
They can indicate the contents of the package, provide contact information and warnings, or just greet and thank your customer. 
Packaging stickers can serve multiple functions depending on the product. For instance, labels on beauty items might feature guidelines for their use, while labels on CBD products are more likely to contain health and safety warnings. 
How to nail cannabis packaging design - learn tips & see examples here
With this in mind, let's quickly run through the various reasons what stickers and labels are perfect for:
To reinforce the product price. A visual reminder is great for special deals.
To describe the contents and display product specifications. The label offers valuable space to say more about your product.
To provide guidelines for use and health & safety warnings. Unlike the product box and leaflet, guidelines on the label are actually attached to the product, which is always handy.
To provide contact information. Another place to advertise your customer service.
For branding purposes. And that's what we'll be focusing on in this article.
This list is by no means exhaustive, but the overall point stands: packaging stickers and labels are used for regulatory and branding purposes.
Starting a supplement business? Read about what your supplement labels need to say and learn the steps to successfully launch your brand
And while we're on the topic of branding...
Why incorporate packaging stickers into your branding strategy
The first moment a customer looks at their package is your brand's prime chance to shine. 
Packaging stickers are, essentially, like miniature billboards. They can convey your brand's personality, story, and identity.
You can use that to your advantage.
New marketing strategies that involve technology are currently all the rage. Investing in the latest cloud PBX features to help maximise your customer service efforts is just worth it.
But what about the basics? Why not use the modern mindset to revisit traditional, physical marketing tools like labels and stickers?
Old reliable branding through packaging is still key.
A successful branding strategy depends in part on consistent messaging and customer engagement. You can tick these boxes and more with the cost-effective help of packaging stickers.
Creative ways to use packaging stickers for your branding
We're now up to speed with why you should pay packaging labels and stickers more attention.
Let's now explore how to use them creatively to capture the imagination of your customers and elevate your branding.
1. Communicate your story 
A bit of storytelling goes a long way when creating an emotional attachment to your business.
Steve Jobs started Apple in his bedroom. This arguably helps lend a human touch to what has now become a trillion-dollar business.
It's a much better feeling buying products from a business you've gotten to know than it is from a faceless company or corporation.
Your story doesn't have to be long; in fact, it's probably best to keep it short enough to fit on a sticker. You should also bring your USP to the fore, blending your brand into real life.
Click for more tips on how to design product packaging from scratch
The origin story of your business on a sticker or label is your chance to emphasise the points you want to make. And, quite simply, it shows you care enough to give your customers a fun little text to read.
Keep it short and sweet and the effects may surprise you.
How to save on custom labels? Get'em in a bundle with your boxes and accessories.
2. Emphasise what you stand for 
Consumers are often attracted to a brand because the company's values align with their own. A great example of this is Lush, an organic cosmetics brand from the UK.
They're known for using safe, natural ingredients and being environmentally conscious. Their initiatives include eco-friendly packaging, and their stickers sometimes feature reminders to reuse their containers.
They also attach stickers to each product showing who made it. With this nice touch, the company subtly suggests that they are people, not a faceless organisation.
For those who are trying to be more green, the eco credentials serve as a great reminder to do better. It also reinforces the brand's values and lets the customers know they've made a good choice and can be happy with their purchase.
It's this feeling that pushes us to become loyal to a brand—and all because of a sticker.
See how you can reach more customers and build brand loyalty by promoting your eco-friendly packaging
3. Craft a memorable unboxing experience
Who doesn't love opening packages? It's why unboxing videos have become so popular, with many reaching millions of views. 
Take advantage of the trend and create an unboxing experience your customers won't forget. Using custom tape, stickers and thank you cards for this is much more affordable than printing a box inside and out.
Click here to find out how to say thank you to your customers in a note, card or sticker.
You can address your customers by name, express gratitude for their purchase, or leave them a lovely compliment to put a smile on their faces. Don't be afraid to personalise away.
But it's not just messages you can customise—use pictures and graphics, too!
Have you got an idea for a visual pun? Or maybe there's an abstract pattern that matches your brand and will help your product stand out?
If you're running out of ideas, click here and see our range of pre-printed stickers and custom label templates.
4. Draw customers to your offer
Inform customers about your current promotions any chance you get. Packaging stickers are one of the ways to do that.
Slap a good "10% OFF" on your product to reinforce your great deal, or print the sticker with a unique promo code for future orders.
But keep in mind - using only traditional ways to promote your offer is a bit outdated. It's like choosing a fax machine when you can send online fax instead.
How about creating a QR code sticker?
Your QR code can lead the customer to any page you want, whether that be a product subcategory or a limited-time deal. You could even take it a step further and have a personalised message waiting for them. 
Or, like Yeo Valley, you can promote your loyalty points programme, but do it with a QR code sticker.
5. Encourage user involvement
Getting your customers to promote your products sounds like a dream, doesn't it? Well, you can make it happen using packaging stickers. 
For instance, come up with a fun competition that the customer can take part in and include the details on your stickers. Provide instructions or even a QR code that will take the participant to an information page.
Through your stickers, you can also incentivise your customers to tag you on social media, and boom! You benefit from user-generated marketing.
What is packvertising on Instagram? Here are 10 brands that do it right
6. Stand out visually
This last one's probably the most intuitive: use clever design and pleasing colours to catch an eye. 
Colour psychology tells us that certain hues evoke particular feelings or concepts e.g. green for freshness, purple for decadence, red for passion, and so on. Depending on your branding and mission statement, you can put this to good use.
If you're in the business of providing luxury products, for example, black and white is probably more suitable than neon orange.
Of course, there's more to design than just colours. You also have to think about the visuals and the font you use. Is your style mini- or maximalist? Is the slogan easy to read? Does the graphic design complement your story and branding?
When you customise designs, remember that brand consistency is key. 
Don't stray from your usual colour palette. You want to provide consumers with a visual that's exciting, yes, but cohesive with the rest of your materials.
To make sure you're making the right call, consult a design or packaging expert.
But these considerations are just the tip of the iceberg.
Top tips for creating your own packaging sticker design
While designing your own labels and stickers can be great fun, there are a few practical guidelines that you need to bear in mind.
This section will give you some pointers that'll help you craft designs that are both eye-catching and effective.
Do some research before you begin
Take the time to establish what your target market's preferences are. Send out surveys to your existing customers inviting them to rate potential designs.
If you have the resources, you could even put together a few prototypes and test them out with focus groups.
It's always a great idea to check what the competition is doing.
Buy a few products from competitors and examine the packaging when it arrives. This will not only get you up to speed with current trends but also give you an idea of how high the bar is to help you outdo the competition.
Consider technical requirements
Graphic design is a difficult job that people train for years to do. Keep this in mind when designing your labels and stickers.
If you're not a professional, your design might look good in theory but not hold up when printed.
For example, if you want to cover the whole label (edge-to-edge printing), you need to create it with something called a "bleed" around the outside. This means that the printed area has to extend beyond the edges of your final sticker.
This gives the printer some room to manoeuvre if the paper moves slightly during the printing process.
For a typical sticker, a bleed of about 3mm is ideal.
But there's much more you can fumble with when creating your custom design. So if you're new to this, consider using a template or a trusted online tool.
See how easy it is to create your own custom labels with Packhelp's online editor
Check for errors before you print
It should go without saying, but proofreading your design is essential. There's nothing worse than receiving a batch of 2,000 stickers only to find you spelt it "Thenk you for your purcahse".
Either go through your design 10 times over or have another pair of eyes give it a check. 
It's absolutely worth your time and money unless you assume your customers are not bothered by glaring spelling mistakes. But if you want your brand to be associated with quality, stellar design & copywriting is a must.
The takeaway
Packaging stickers can be a visual storytelling tool, a promotional asset, and so much more.
You can use them to bring your brand values to the fore and create a tangible connection between your product and your customers. 
Your branding can only benefit from adding personal touches to your packaging. And stickers & labels are an affordable way to do so. When designed well, they can help your message resonate with your audience, and encourage engagement and loyalty. 
Who knew the inconspicuous packaging stickers could be such a formidable weapon in your marketing arsenal?