20 Ideas For Designing Christmas Packaging
Kajetan Wyrzykowski | 7 min read
Christmas is the sales peak for almost every e-commerce company. In this article, we take an insightful look at packaging design crafted specifically for this period.
Christmas is the most heated time of year for most e-commerce brands. Clients are packed in stores, website traffic is going crazy. So when is the best moment to prepare for this madness?
The truth is, the sooner the better.
Especially since most companies begin preparing when it's already too late. However, there is hardly a business out there that can focus all of its resources on Christmas in August, or even September.
To avoid the last-minute frantic rush, there's a secret ingredient that you may already have. That secret ingredient is planning ahead.
Packaging is one of these elements that you can - and should - plan well in advance. It's all about choosing the right ingredients for the perfect recipe. In the end, Christmas is the ultimate challenge for all eCommerce owners, retailers and marketers alike. Winning the hearts of the customers is top priority.
Why should you consider Christmas packaging?
There are several benefits of implementing a special line of packaging for Christmas.
Festive packaging refreshes your brand image
Allows you to create special variants of your product
Creates an opportunity to surprise your customers
Emphasizes the special holiday offer
In this article, we will help you out with designing your packaging so that it embraces the Christmas spirit. Click here to read more about most important 2018 holiday deadlines in the countdown to Christmas. 
Color blends
1. Use the colors Of Christmas - Green & Red
Christmas trees, lights, ornaments - all of these are symbolized with green and red. Using these two colors in a Christmas packaging creates a clear statement about this time of year. This combination is perfect for a cheerful brand, is it not?
2. Use A Different Festive Blend Of Gold & Black
Black and gold are colors of an upscale character. Black brings elegance to mind, while gold is associated with luxury. A premium brand can benefit from using black and gold ornamentation.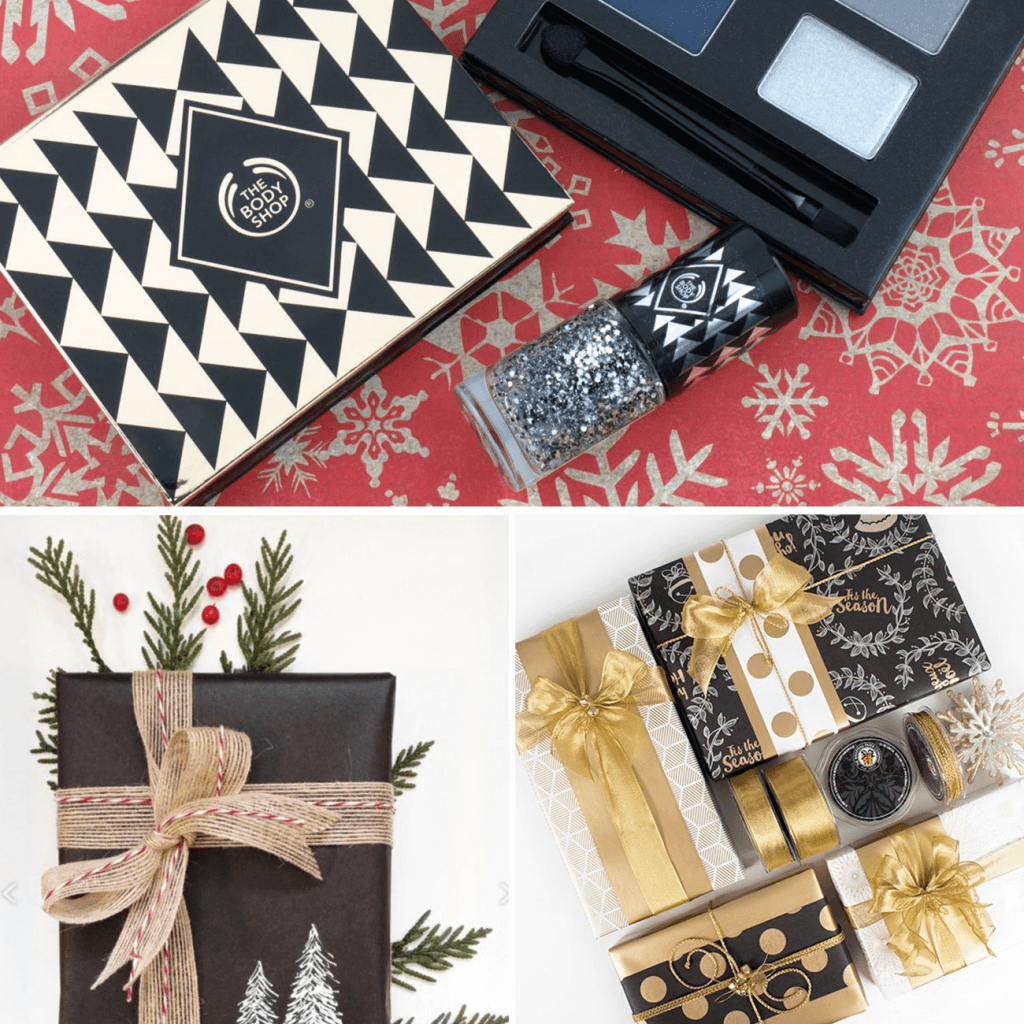 Interested in using bespoke product packaging this Christmas period?
Style Inspirations
3. Get Inspired By Rustic Style
There is a reason why rustic designs are natural winners. They create an organic warmth and use simplicity to their advantage.
Want to use this kind of design for your product packaging? Take a look at our Eco Mailer Boxes. They are a natural, earthy brown colour and work flawlessly with a simple black print. Even an elegant, handwritten "Merry Christmas" can do the trick.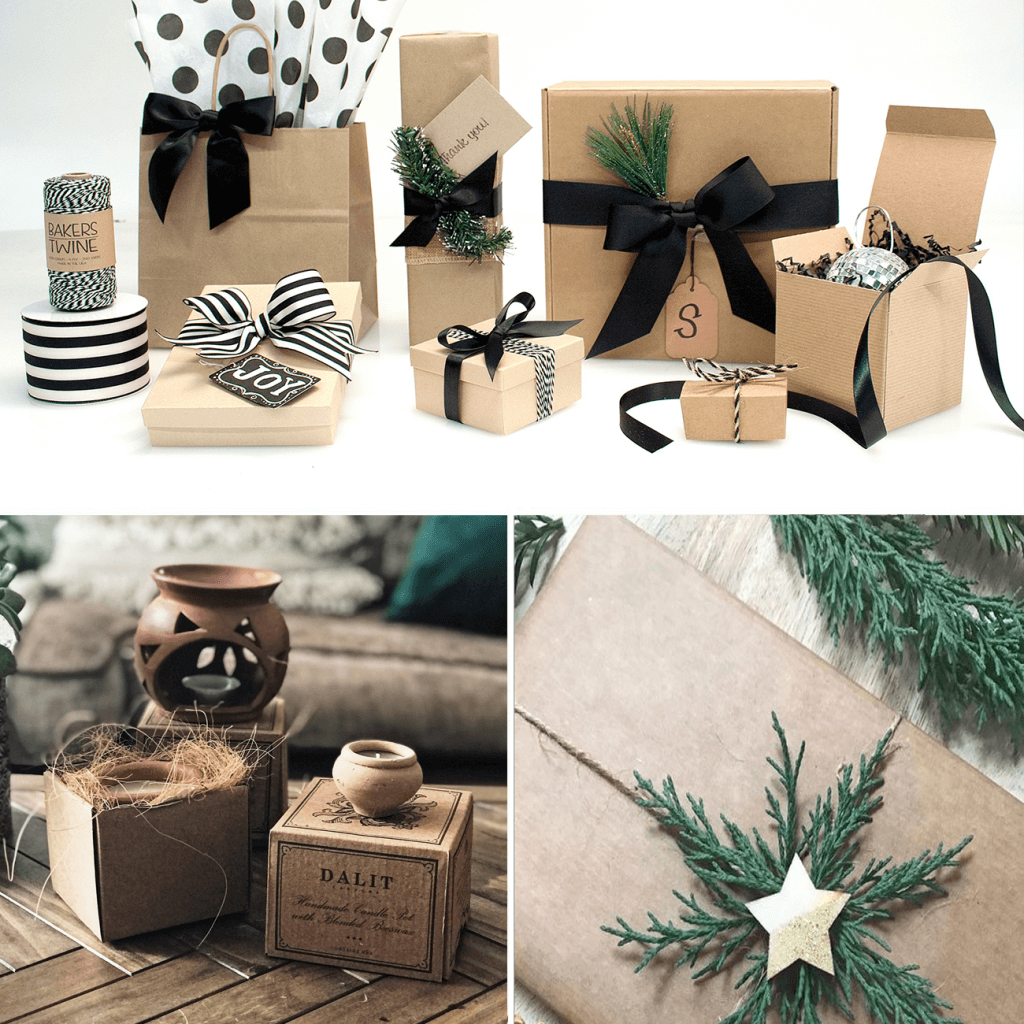 4. Use A "Scandinavian Sweater" Style
When looking for design inspirations, keep your mind open. Christmas sweaters - apart from the heart-warming "ugly sweaters" - are bursting with phenomenal patterns. Use some of them in your design!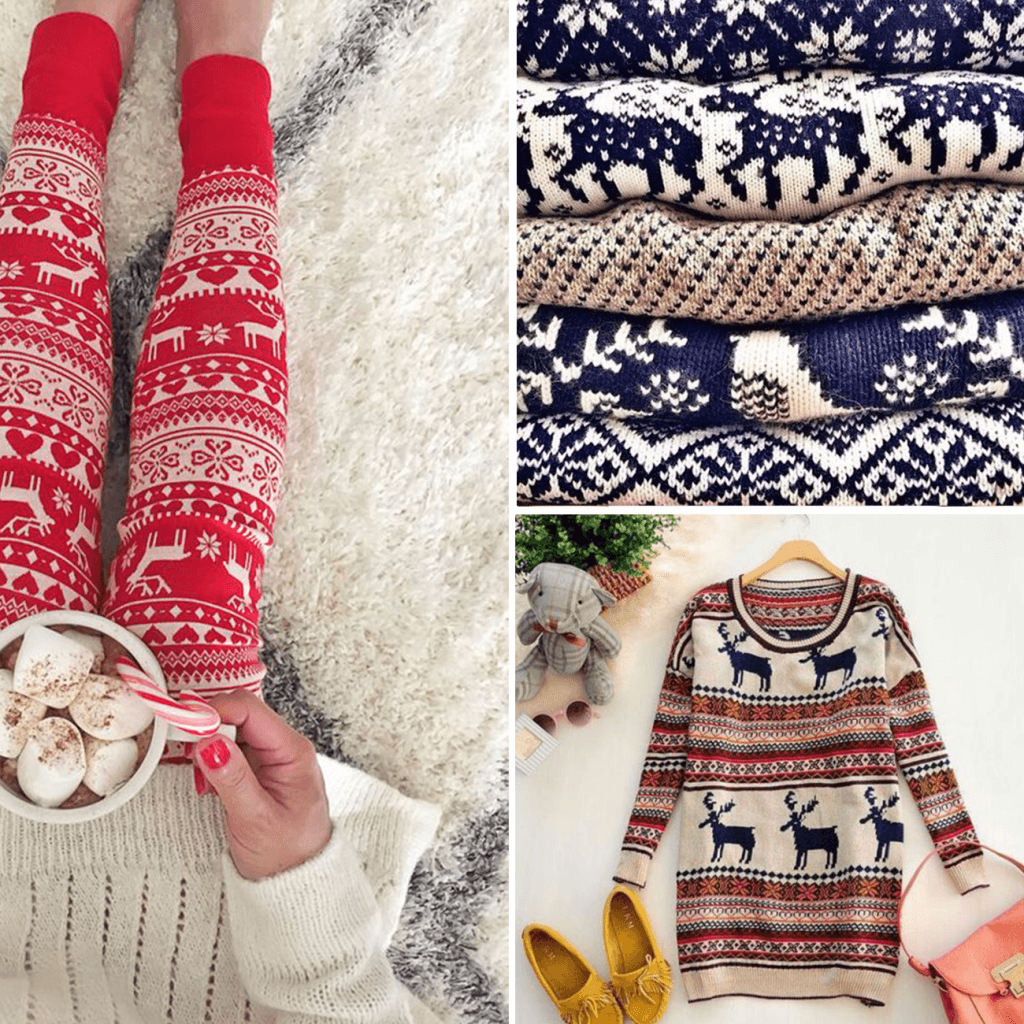 5. Be Minimalistic
Minimalism is a great way to connect with your customer. Excessive packaging designs are often perceived as screaming at the customers. Christmas packaging can also benefit from minimalism. Use simple imprints, white and natural cardboard to create a delicate festive mood. Learn more about 2018 Holiday Shipping Deadlines. 
Looking for custom packaging with your branding?
Print Techniques
6. Embossing
Embossing is a fantastic solution for more upscale brands. It is a print technique which creates a 3D effect on the surface of a box. By adding a novelty in the surface of your box, you will address the sense of touch. Combine an embossed surface with hot stamping and you're left with a luminescent effect, right under the Christmas tree.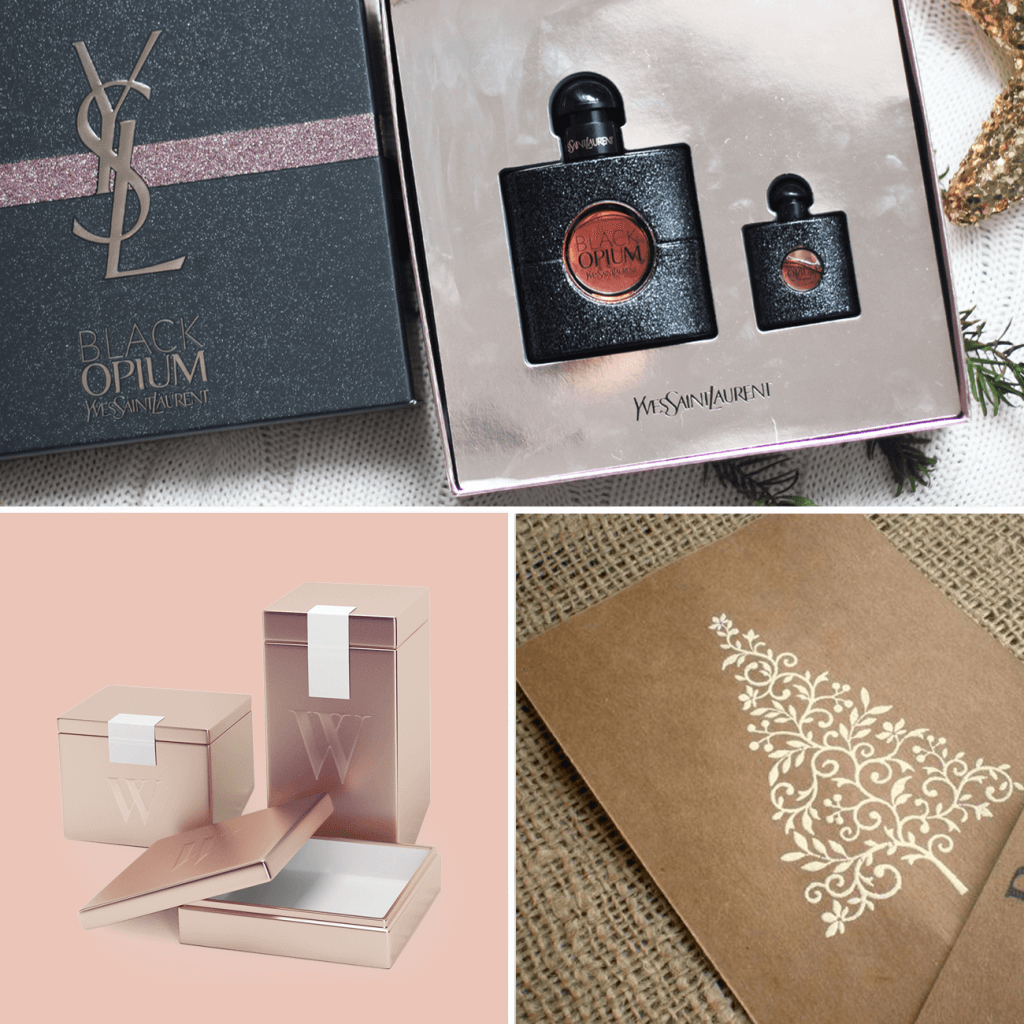 7. Hot Stamping
Hot Stamping is a method of laminating a particular part of the design with glowing foil. The result is a very original, glossy piece of the pattern. Begin with hot stamping your brand's logo or name - you'll gain a little Christmas glow.
8. Print A Christmas-Themed Hashtag
Encourage your customers to go online by printing a holiday hashtag on the box. Bring your customers to the one place and let them share your stunning packaging artwork! Click here to learn when should you order your boxes to receive them by the day you will need them.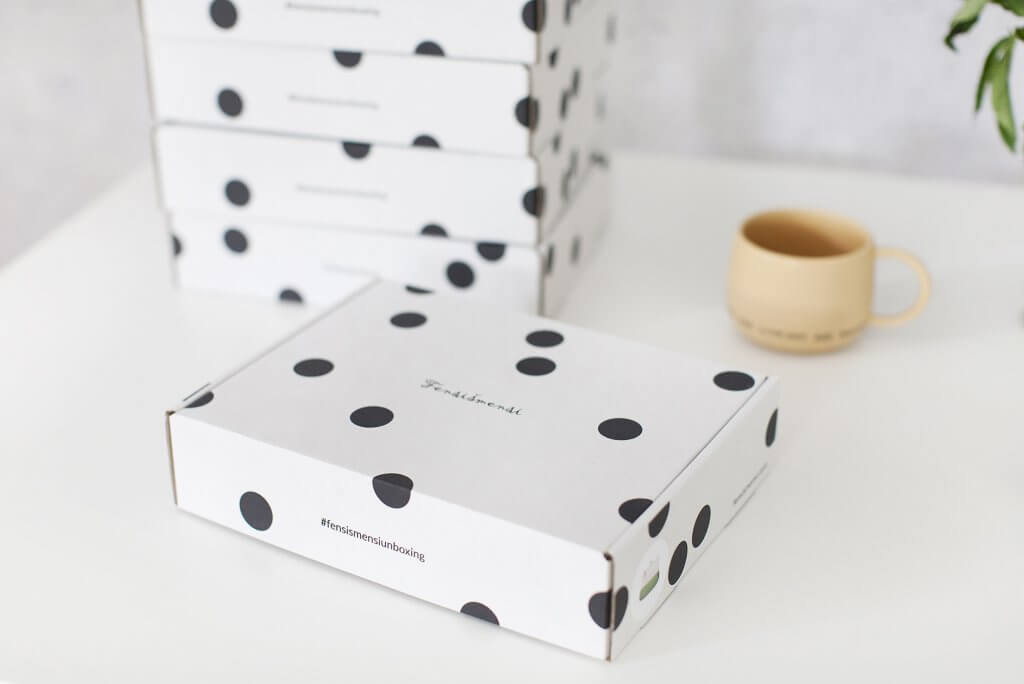 9. Use A Funny Text
Christmas is all about the light mood. Use a funny text and surprise your customers!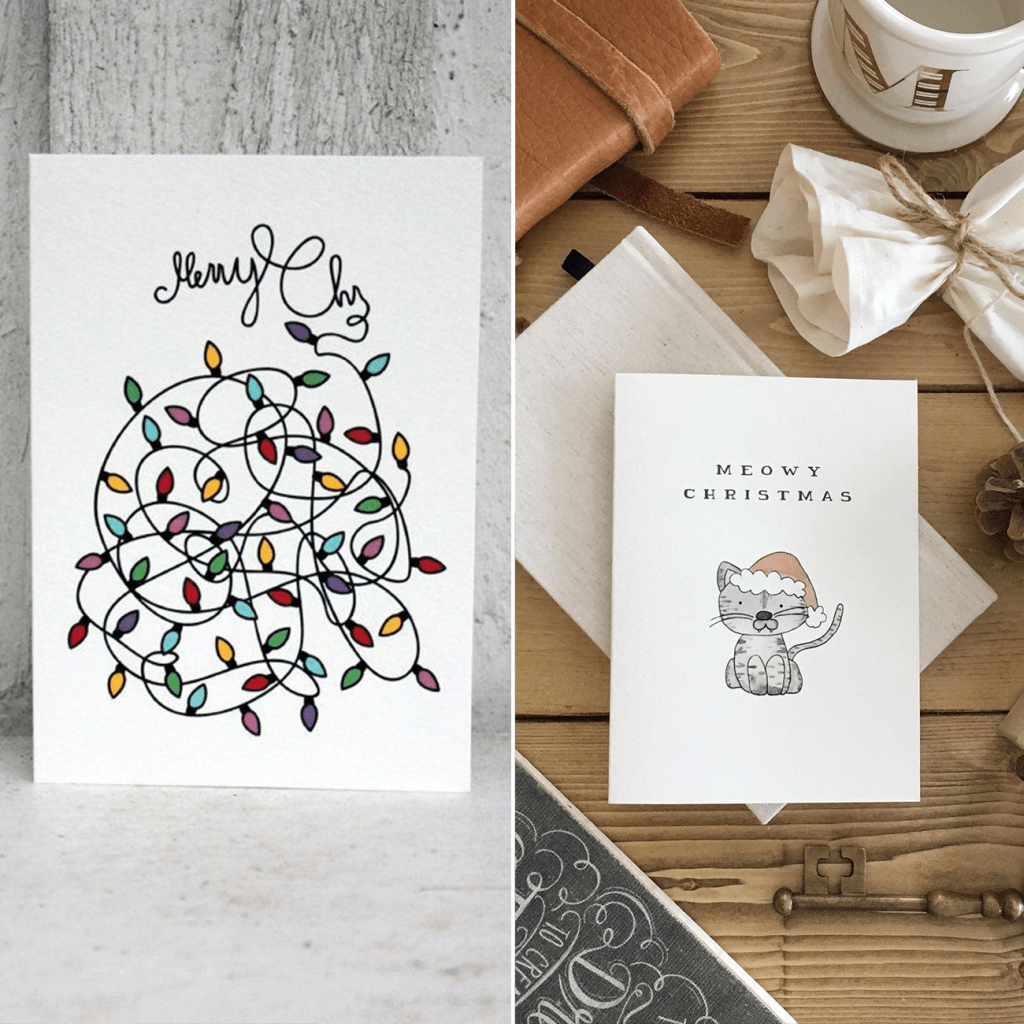 Design your boxes - create a lovely festive project!
Use Packaging Fillers
10. Use Wood Wool & Paper Shred
Wood wool is a fantastic finish for the inside of your packaging. Most importantly, it provides additional amortization inside the box. You can either use the natural color or go with a festive, colored variant. This way, your customer gets a beautifully presented product - ideal to share on Instagram.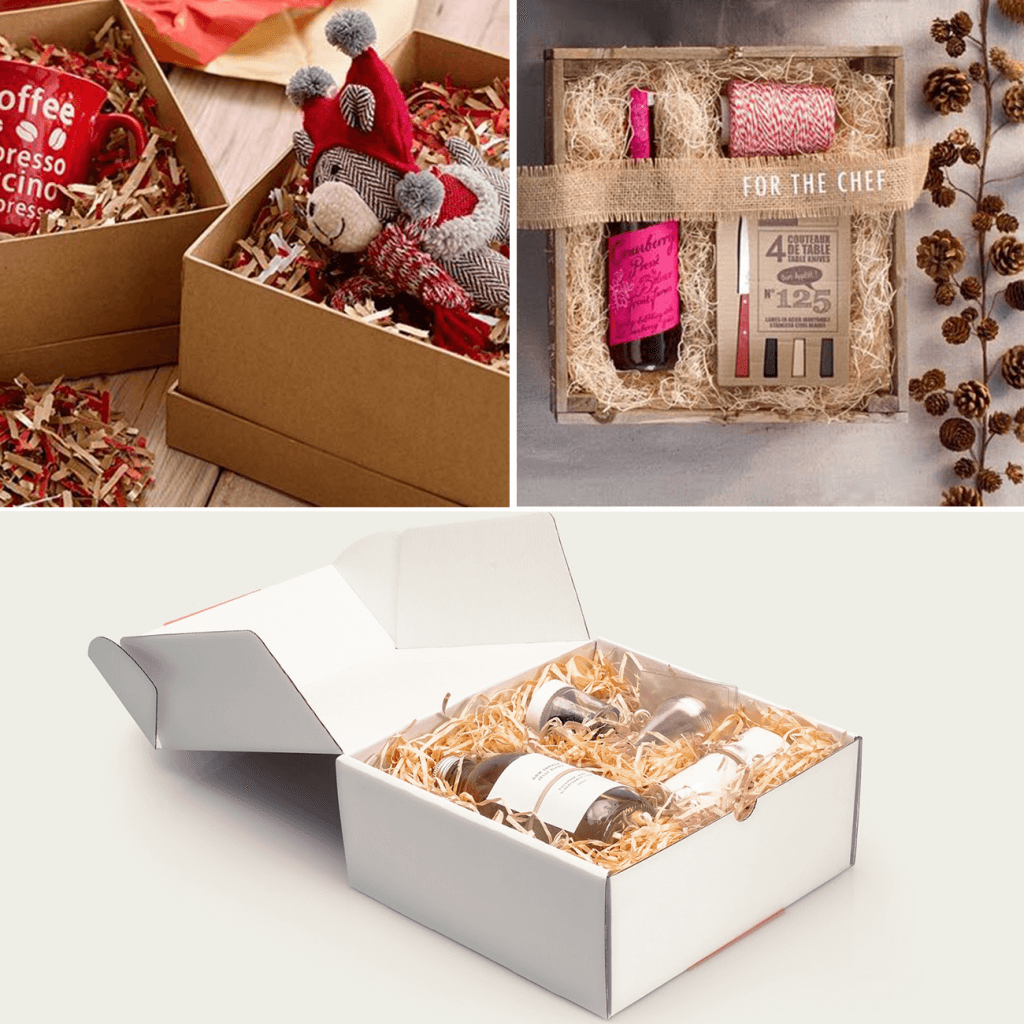 11. Create Custom Inserts and Partitions Inside
Do you like your stuff to be neat and tidy? Many of your customers do, too. Internal partitions increase the security of the package and provide better amortization. As a result, the products inside will arrive undamaged and in order.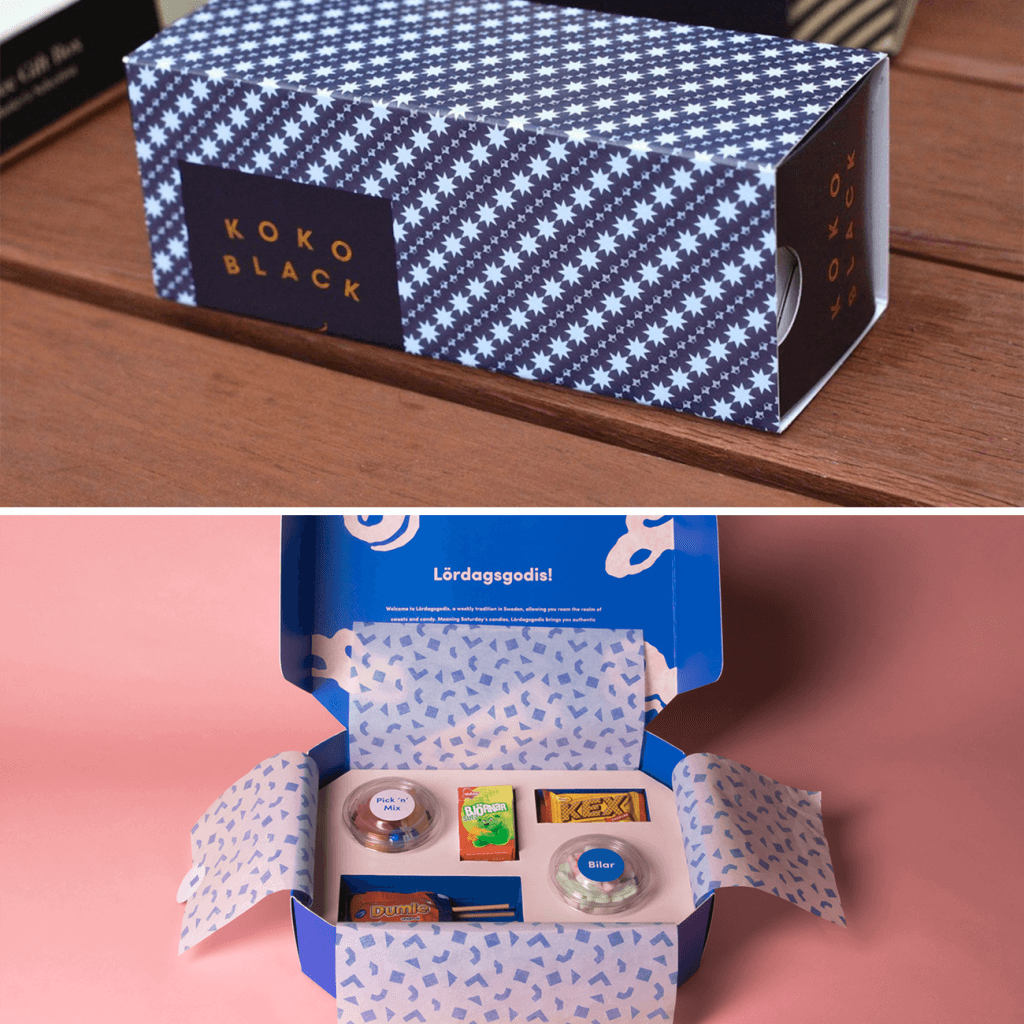 Design and order your custom printed boxes. 
External Add-Ons
12. Use Ribbons
A ribbon is the ultimate accessory attached to a gift box. But don't think it's cliche. Ribbons can be a subtle novelty to  your design, as well as an additional space for branding. Many brands add ribbons to their festive packaging, for more of a traditional Christmas feel too.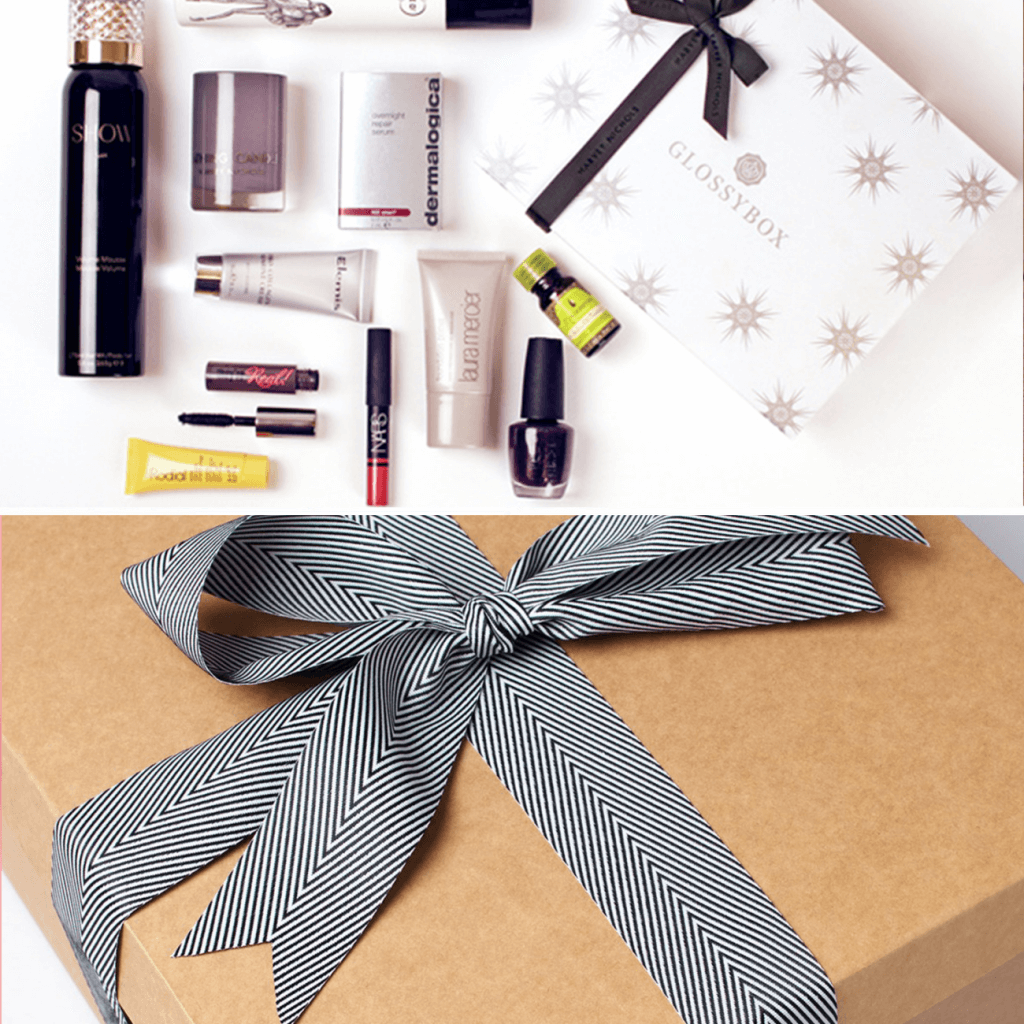 13. Holiday Labels
A label usually includes all the important information on your brand and the items inside the package. However, a simple cardboard box can look entirely different with a lovely, festive label. You can also use it to wish your customer a Merry Christmas!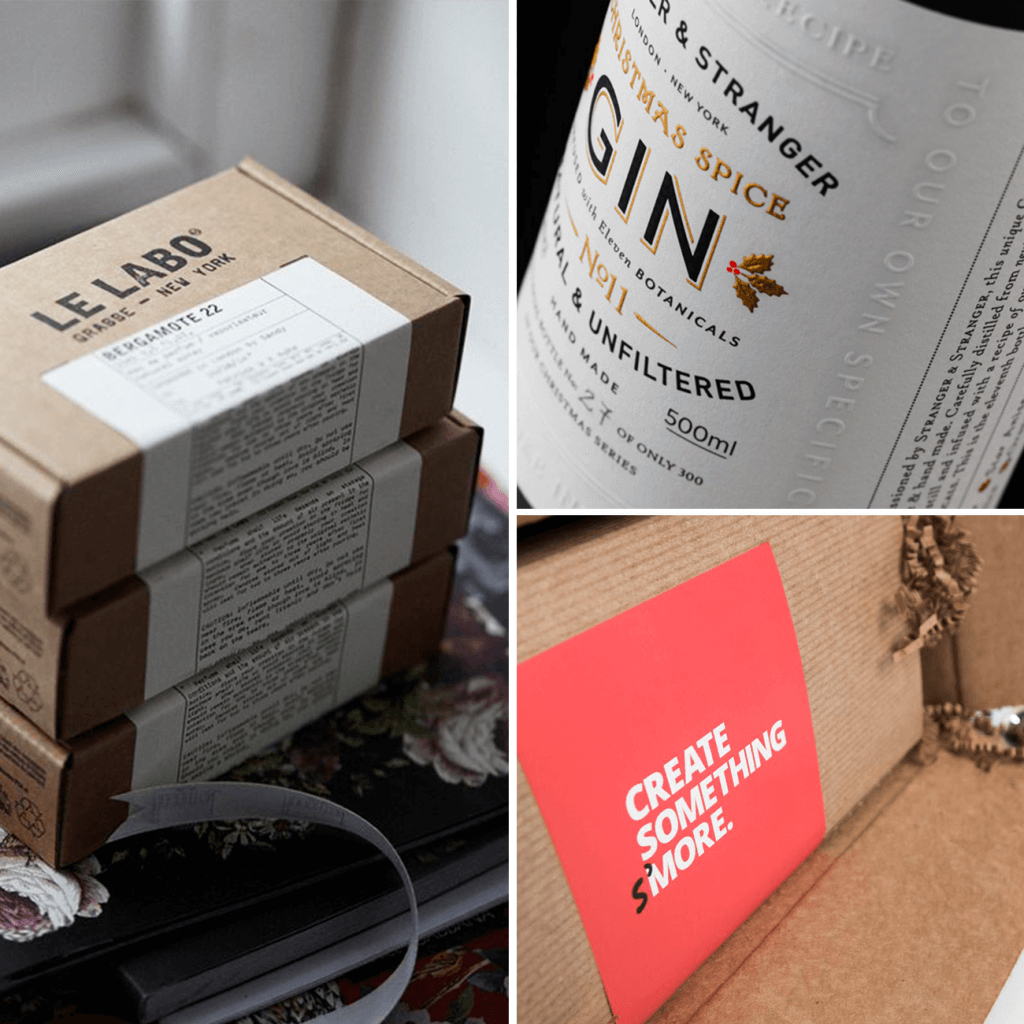 14. Spruce Up The Box With Stickers
Stickers are small elements that be placed anywhere you want. In your festive design, they can include a "Merry Christmas" note or a tiny holiday symbol. You can also use a sticker to print out your logo and make it stick out. It boosts your "giftability" and is a nice little bonus for your customer.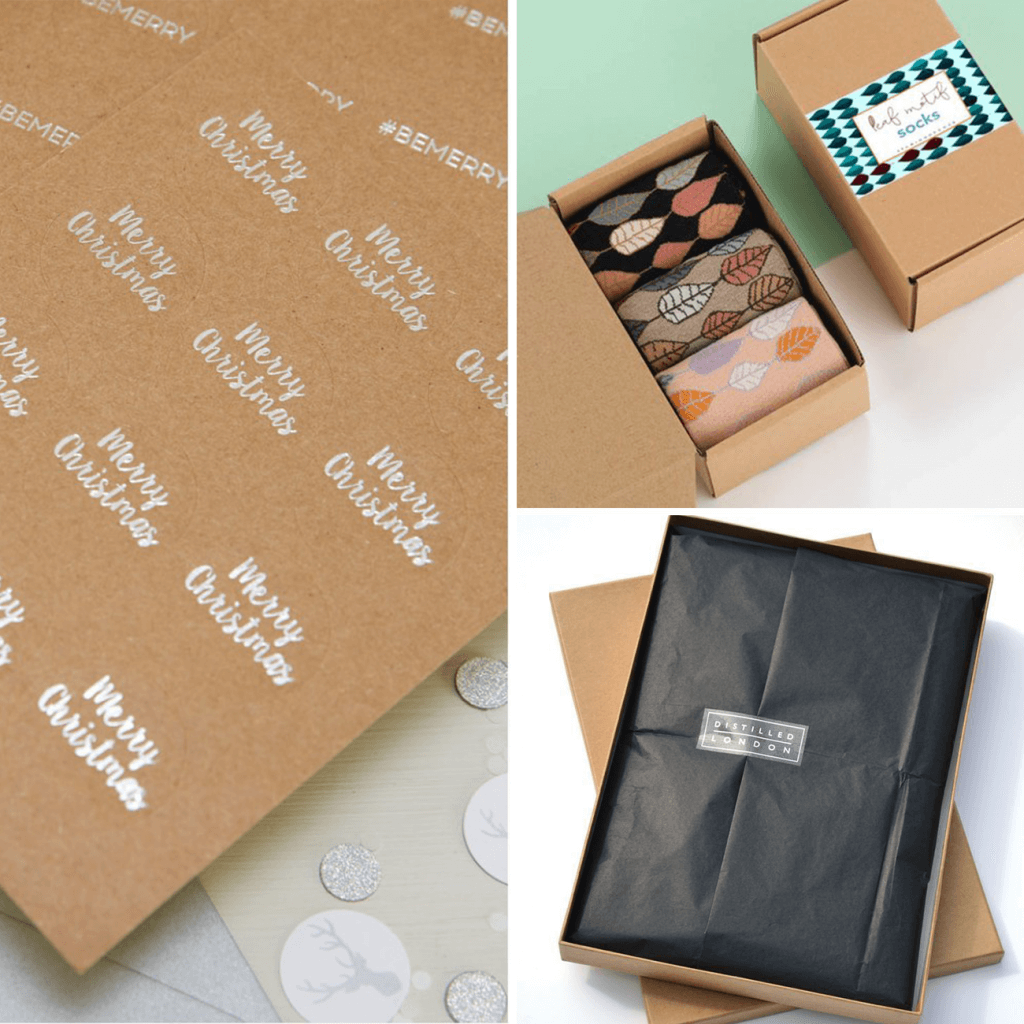 15. Add Jingle Bells Or Other Christmas Ornaments
Are you selling your products in a store? Create something extra in your design. Add a tiny jingle bell to the top of the box, something like a small cat bell, for example. Even before the gift lands under the tree, it will pass on the Christmas spirit everywhere it goes!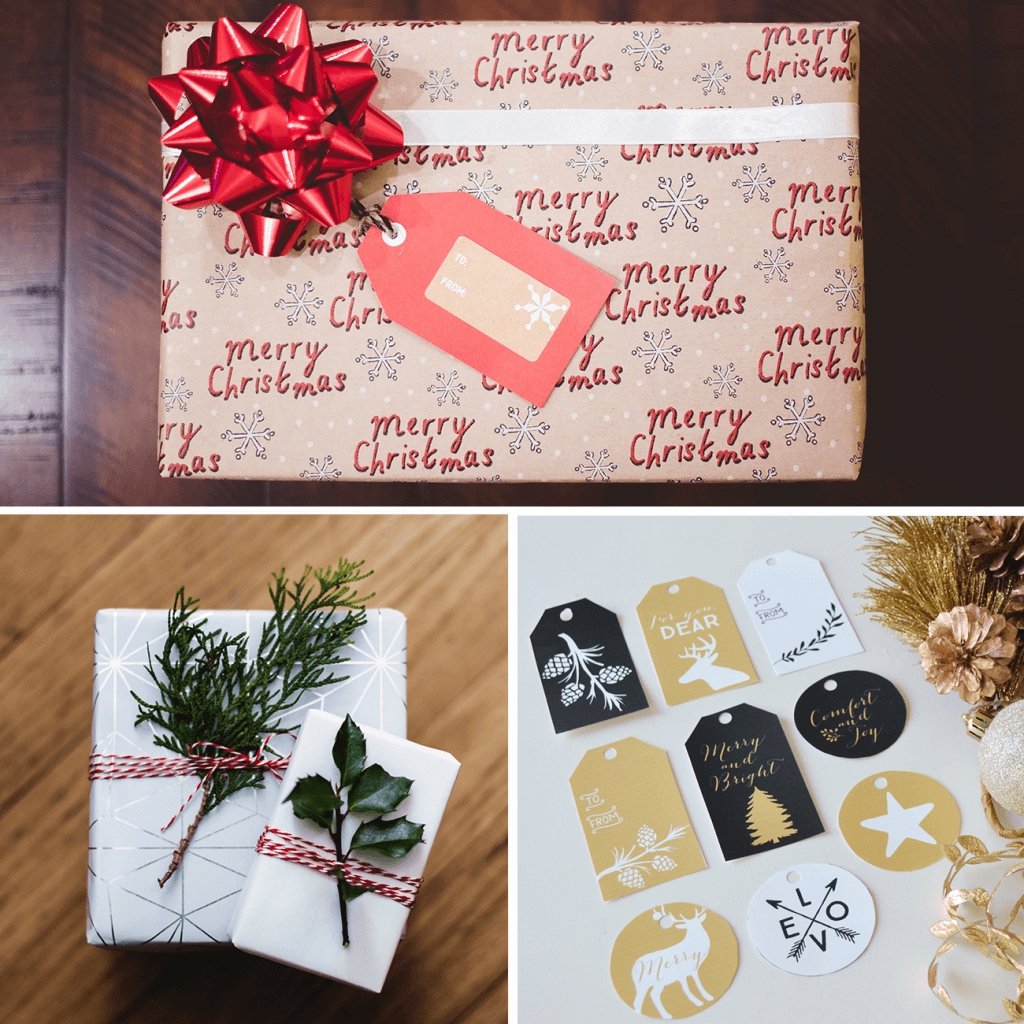 Interested in using bespoke product packaging this Christmas period?
Internal Add-Ons
16. Tissue Paper
Wrapping paper usually goes outside packaging, right? Have you thought about placing it inside the box? A beautifully ornamented, semi-transparent paper can be a second layer to build anticipation. It also adds a slick, upscale feeling to the whole package. Contact us If you would like to order custom branded tissue paper. 
17. Add A Personal Wishes-Note
Adding a personal touch to your packaging always pays off. Why? Simply because we all like being personally appreciated and treated specially. A rustic note with personalized Christmas wishes and your signature will be a subtle touch to your package.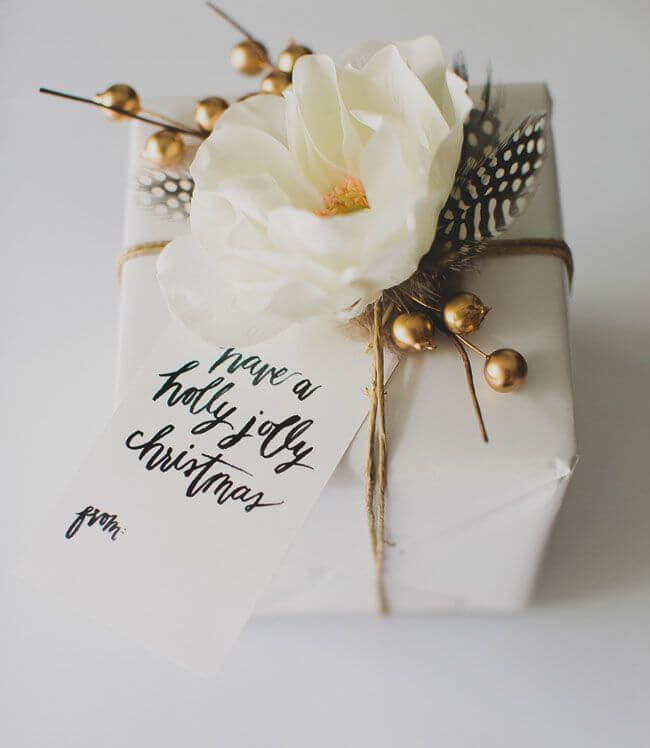 18. Copy Printed Inside The Box
When your customer opens their box, it should be a memorable experience. One of the ways to increase the attractiveness of your packaging is printing a little something inside the box. Provoke your customer and create an intriguing mystery around your product. Let the customer discover the product, with your design leading the path! Contact us If you need custom inside printing.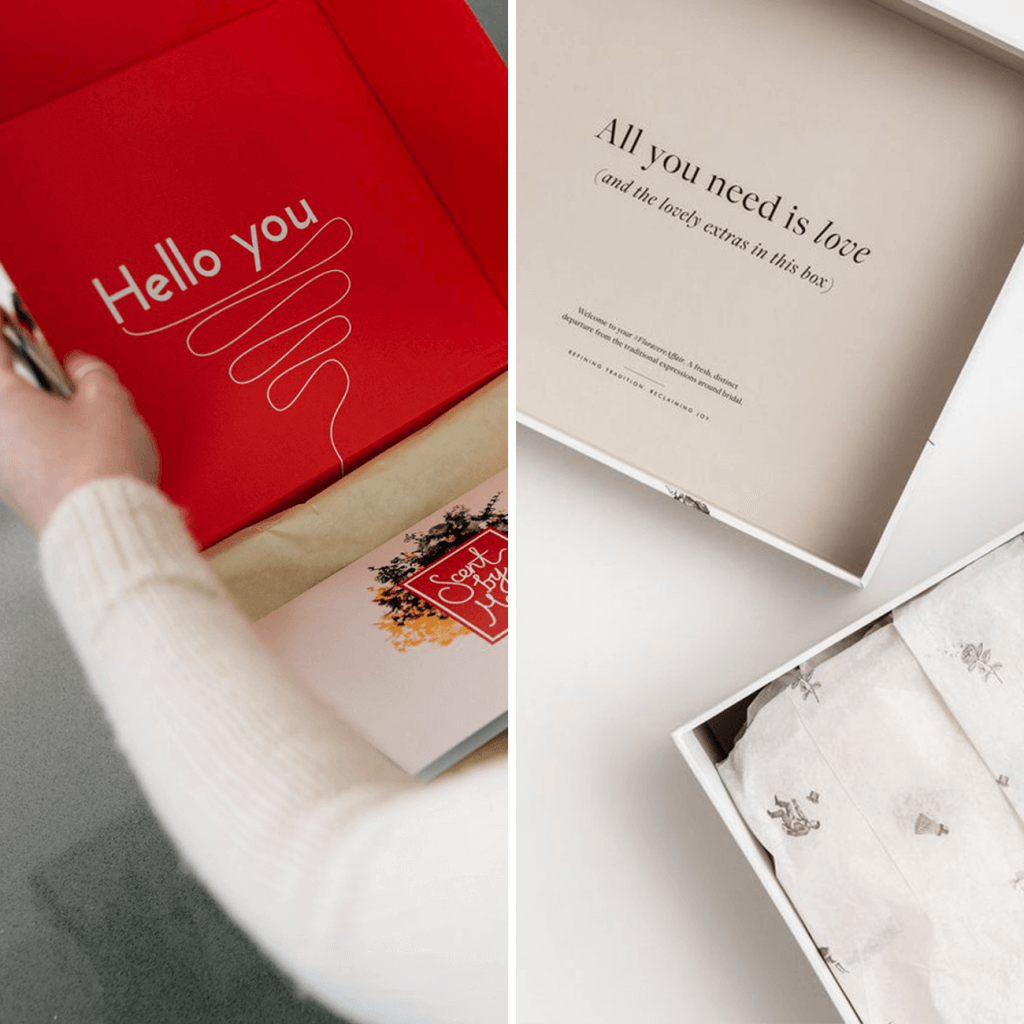 Looking for more packaging inspirations?
Be Original
19. Include A DIY Element
Who said that you need to do all by yourself? Encourage the recipient of your box to add something special to the box. Send them a Christmas tree branch or a tiny pouch with stickers and leave the rest to your customer's creativity.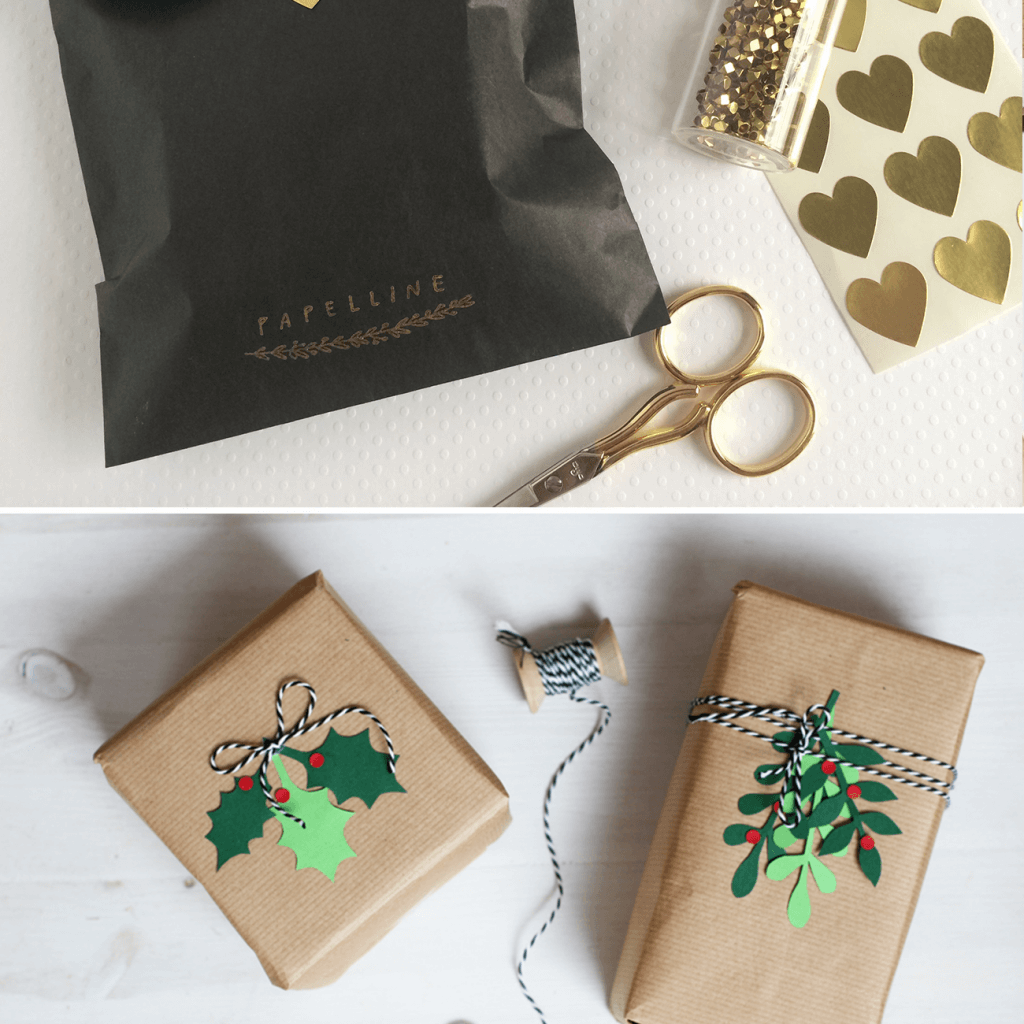 20. Create A Packaging Set
Christmas is all about unwrapping and unpacking gifts. Prolong this experience by creating a custom set of packaging solutions. A brown paper bag with a simple design can be an outside layer protecting your box. Additionally, it's a tasteful manner to boost your branding.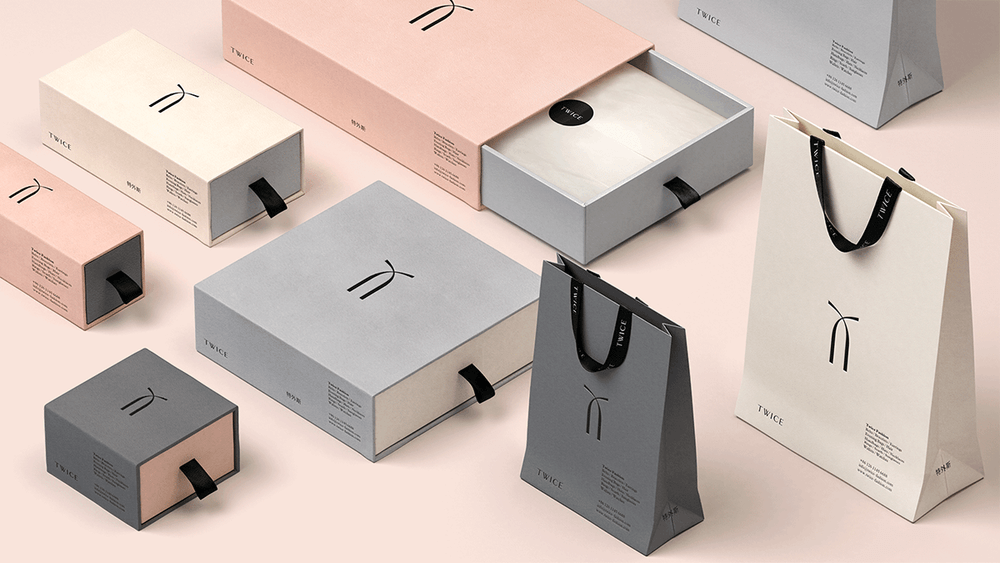 After reading our packaging design guide, you must have a head full of ideas!
However, the content gifts from Packhelp are not over just yet. We have created a special 2018 Holiday Timeline. Take a look at it and be sure to read our tips on making the most out of all of these dates. Let's get this Christmas rollin'!
---