Glue-Free Delivery Box
A new & improved delivery box with tape-free locking tabs and custom sizing for quick, secure and easy shipping & returns.
Customization
Customization
Custom sizing & 6-colour outside-inside prints.
Innovative locking system
Innovative locking system
Tape-free assembly & tamper-evident self-sealing tabs for quick and secure shipping.
Solid construction
Solid construction
Triple-layer corrugated cardboard, 460/480gsm.
ECO PROPERTIES
Available sustainable options:
When exposed to light, air, moisture and microbes, this product breaks down to natural elements found in nature.
Made from paper pulp that's sourced from responsibly managed forests and mills.
Locally manufactured in Europe, meaning a lower transportation footprint compared to goods produced and imported from abroad.
Contains no petroleum-based plastics.
Can be broken down and used as a new material.

Contains at least 60% of recycled materials.
Hassle-free delivery & recycling
No taping or gluing required. Secure your goods by locking in the special front tabs with tamper-evident self-sealing. Returns are just as easy for your customer.
Recycling? No need to peel any tape away. Throw the whole box in with your paper recycling. It's 100% recyclable.
Branding & strength made to measure
Print outside, inside or both with top quality 6-colour flexo printing. Choose Natural Kraft for that organic look/feel or Standard White for full-colour prints. Ensure safe delivery with a solid B flute (460/480gsm) corrugated cardboard.
Reviews
See what our customers say
Sample packs
Sample packs
Try before you buy. Select up to 5 samples and test different types of packaging, materials and sizes. Order a sample pack and get your money back with your first order.
Order now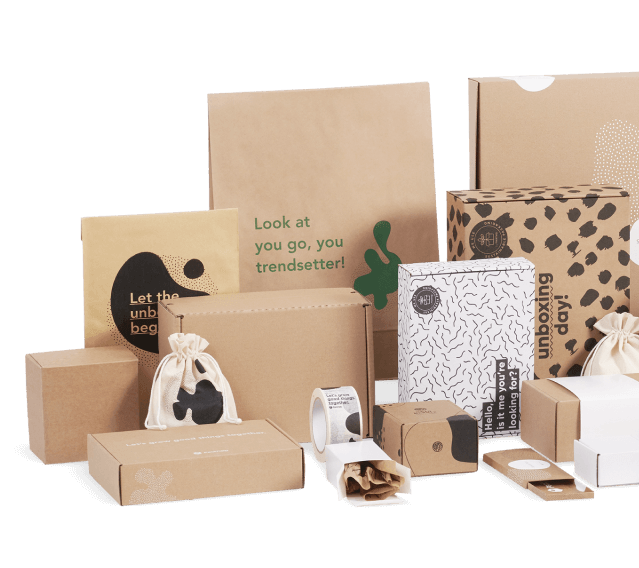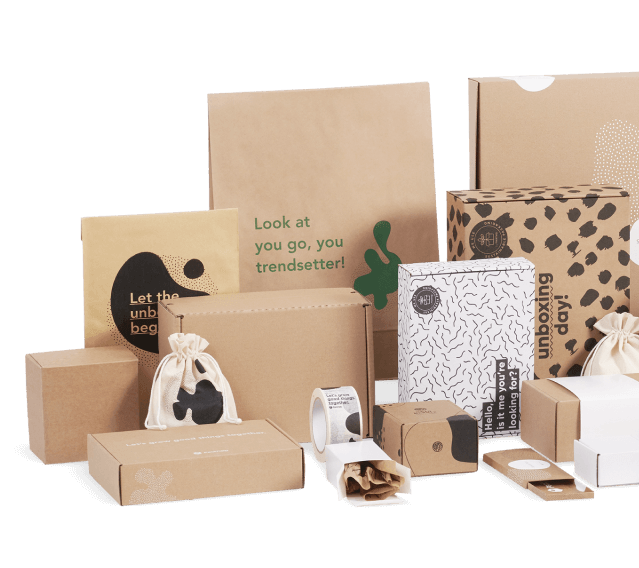 SPECIFICATIONS
Specifications
Material
Corrugated fibreboard B (3-layer)
Material colour
Natural Kraft

Standard White
Printing process
Flexographic Printing
FAQ
Why can't I order this product?
Unfortunately, this product is currently being redeveloped. In the meantime, our packaging experts can provide an alternative solution. Just submit a custom quote request here and they'll take care of everything.
Is it possible to print both on the outside and inside the box?
Yep, you can print on just about every inch of these Adhesive-Free E-commerce Boxes using high-quality 6-colour flexographic printing. That means inside, outside or both. Just make your request during the quoting process or reach out for help. Our packaging experts can take you through all your printing options.
Can I print multiple colours directly on the cardboard?
Sure, but it depends on the design and its complexity. Your delivery boxes will be printed using flexographic printing and from experience, we have found that a 3-colour mix is an optimum amount to maintain the highest results. Reach out during the quoting process and our packaging experts can take you through all your printing options.
Are there any standard sizes for these delivery boxes?
Nope. Sizing is fully customizable with these Adhesive-Free E-commerce Boxes. Just supply your desired dimensions during the quoting process and our packaging experts will take care of the rest.
How eco-friendly are these delivery boxes?
These delivery boxes are made from a mix of 90% recycled content and 10% certified wood pulp. They are locally fabricated in Europe to minimise the carbon footprint of the distribution chain. The whole box is recyclable and biodegradable. Printing is carried out with water-based inks and no glues are used in production. Plus, tape is not required to seal these boxes.
Can the box be damaged during shipping?
These delivery boxes are solidly constructed from durable corrugated cardboard and designed to withstand the usual bumps during delivery. But there are many other factors at play. It depends on the type and weight of the objects you put inside your delivery mailer box – not to mention the handling skills of the courier.
What is the strength of the cardboard?
It depends on the type of corrugated cardboard you select. We can produce your delivery boxes with either E flute (360-380gsm) or solid B flute (460-480gsm) cardboard. Tell us a little bit about your product (e.g. weight and dimensions) during the quoting process and our packaging experts can recommend the best option for you.
Subscribe for promotions, special offers and news from the packaging industry.
Great!
You're now subscribed!
Australia & Oceania

Belgium

Bulgaria

Canada

Croatia

Denmark

Estonia

Finland

Greece

Hungary

Ireland

Latvia

Lithuania

Luxembourg

Norway

Portugal

Slovakia

Slovenia

My country is not listed